Disclosure of Material Connection: Some of the links in this post may be "affiliate links." This means if you click on the link and purchase an item, I will receive an affiliate commission. Disclosure in accordance with the Federal Trade Commission's 16 CFR, Part 255. This site is a participant in the Amazon Services LLC Associates Program, an affiliate advertising program designed to provide a means for sites to earn advertising fees by advertising and linking to Amazon.
Easter is a fun holiday to celebrate with friends, but what do you get a friend for Easter? I guess it depends on how close you are and how important Easter is to them, you, or both. Below there is a list of some great gifts you can give to your friend for Easter. Make sure to check them out and see what your friend might like.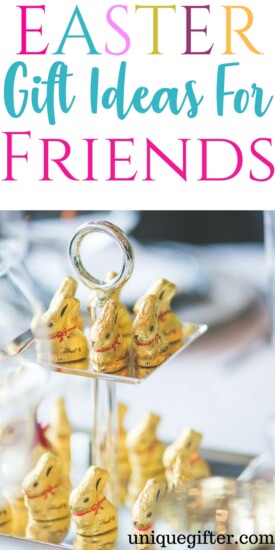 Flower Press Kit
Help your friend make their own art with their brand new flower press kit! It's also a wonderful gift for springtime as well.
Hummingbird Coasters
These hummingbird coasters will give them somewhere to set their drinks and protect their tables at the same time, plus they look pretty too.
Easter Egg Polka Dot Soap
Fun looking soap like this Easter egg polka dot soap is a sweet gift, on its own or accompanied by another gift.
100 Plantable Confetti Butterflies
They can plant these plantable confetti seed butterflies to grow their very own plants and have fun doing it.
Easter Cookie Gift Set
Yum! They will love these Easter cookie gift set goodies!
Flower Earrings
Flower earrings will go with any outfit they choose to wear, for Easter, spring or summer, or anytime they feel "flowery."
"Spring blossom" Decorative Plate
A beautiful spring blossom decorative plate will make a nice gift if your friend likes collecting plates, or needs a classy plate to add to their dishes.
Soy Mason Jar Candle Various Scents
With the wide variety of scents these soy mason jar candles have, there is a scent for everyone!
Herb Garden Kit
Help your friend plant their own herb garden with this nice little kit!
Dragonflies and Flowers Burlap Garden Flag
A unique garden flag made out of burlap, with beautiful dragonflies and flowers, is just what they need to welcome people to their house this springtime!
LED Color Changing Hummingbird Wind Chime
This solar powered LED color changing hummingbird wind chime will make their porch an even more pleasant place to be while the two of you hang out and enjoy a nice drink together.
Prayer Journal
A prayer journal is a great Easter gift for a friend who needs to keep track of their prayers and loves keeping a journal.
Music for Bird Lovers CD
If your friend loves birds and springtime, they will absolutely love this music for bird lovers CD to listen to while they are indoors.
English Pear and Freesia Shea Butter Bath Bomb
The gift of a luxurious bath will help your friend relax. What better way to achieve that level of relaxation this Easter than an English pear and freesia shea butter bath bomb?
Natural Strawberry Lip Scrub and Lip Balm
Pair this natural strawberry lip scrub and lip balm with the bath bomb above, and they will feel like they are being spoiled for Easter!
Happy Easter Hand Towel
A "Happy Easter" hand towel is simple, useful, and yet unique at the same time!
Apple Cider Face Scrub
Another self-care gift that will be great on its own, or as a set with the lip scrub, lip balm, and bath bomb listed above.
Bee and Flowers Keychain
Every time your friend reaches for their keys, they will be reminded of your thoughtful gift if you give her this bee and flowers keychain as an Easter present.
Flower Ring
A cute and simple flower ring might be just the surprise your friend needs to lift their spirits!
"Hello Spring" Pillow Cover
Help your friend welcome spring this Easter with a brand new "Hello Spring" pillow cover to put on her throw pillow!
I, for one, had never really considered getting a gift for a friend on Easter… but, there is always reason to celebrate all the holidays with your friends. Not only that, but our friends and us always love getting gifts for whatever reason!