Disclosure of Material Connection: Some of the links in this post may be "affiliate links." This means if you click on the link and purchase an item, I will receive an affiliate commission. Disclosure in accordance with the Federal Trade Commission's 16 CFR, Part 255. This site is a participant in the Amazon Services LLC Associates Program, an affiliate advertising program designed to provide a means for sites to earn advertising fees by advertising and linking to Amazon.
Shopping for someone may be hard already but coming up with gamer Valentine's gift ideas? It seems impossible! Instead of something generic, try getting the gamer in your life something more personal or romantic this Valentine's Day.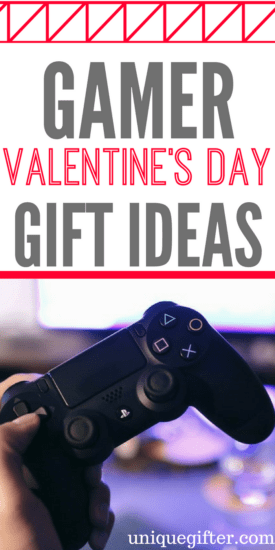 Romantic and fun Valentine's Day Gifts for Gamers
These gift ideas are sure to be a "win" with your gamer girlfriend or boyfriend. Perfect for your player 2!
Pixel Art Keychain
Give your significant other a loving sentiment with one of these pixel art heart keychains. They're perfect for gamers of any age!
Vow to Love You Mug
This mug has a cute way of saying "I'll love you forever", but for gamers. We have some more gifts for coffee lovers here. 
Cheese Board
This Pac-Man cheese board is a great gift for your significant other or a video game loving couple on your Valentine's Day list. Pair it with some fancy cheeses for a thoughtful gift basket.
Link and Zelda Cross Stitch
This handmade cross stitch picture has Link and Zelda, perfect for any Legend of Zelda fan on Valentine's Day.
Crocheted Can Cozy
An adorable wool crocheted and needle felted mug cozy with a pixelated heart on it is the perfect way to say "I love you" on Valentine's Day. Grab them a case of their favourite can-based-beverage for a great gift.
Player 1 and 2 Keychains
Get matching keyrings for you and your boo, or grab the pair for a couple so they can match.
Controller Chip Bowl
They can enjoy some chips and dip while playing their favourite video game. Add those two alongside this to make a delicious gift basket for a gamer.
Name Sign
Even gamers love personalized gifts. Get them something practical for Valentine's Day by customizing this sign with your boyfriend or girlfriend's name.
8 Bit Heart Magnets
Show them some love with these pixel art heart magnets. Use them to put love notes on the fridge.
Gamer Love Pillows
This set of 2 pillows are full of nerdy goodness for your Valentine.
Gamer Gift Basket
If you're not sure what to get the gamer in your life you can't go wrong with a gift basket for Valentine's Day. This one is made up of all their favourite game characters and references.
Heart Friendship Necklace
Perfect for your lover or your best friend, this pair of necklaces make up a pixelated heart. Together you're whole, but apart you'll always be thinking of each other.
Sonic Mug
This custom mug has Sonic and Amy on it holding hands with "You are my player 2" on the side. Your Sonic loving Valentine, and player 2, will love it.
Mario Bros Underwear
Get your SO some cute, sexy, gamer underwear this year for Valentine's Day. If you're lucky, maybe they'll even show you.
Love Coupons
Love coupons are a Valentine's Day cliche, but these geek-themed ones are the perfect gift for a gamer. How about going to a convention in cosplay or playing vintage games together as activities?
8 Bit Flower
Instead of flowers, get your gamer girlfriend (or boyfriend) an 8-bit alternative. It won't die and it makes for an adorable, nerdy decoration.
Cross Stitch (Pattern)
If you're crafty, pick up this cross stitch pattern to really show your love. If you like to craft, here's a list of gifts you make for your loved ones. 
Piece of Heart
Give them a piece of your heart with this heart piece from the Legend of Zelda. A gamer will not only get it, they'll definitely appreciate it a lot. One of my favourite gamer Valentine's Day gift ideas!
It's Dangerous to Go Alone Hoodie
Another Zelda reference, this one to the 8 bit classic. "It's dangerous to go alone, take this" only it's not a sword, it's your heart. Aww. 
Engagement Ring
It's Valentine's Day – why not get engaged? Make it more special with a gaming-related engagement ring.
Start with something they love; video games, in order pick the perfect Valentine's gift for a gamer. They'll appreciate you thought of their interests instead of just grabbing something generic.