Disclosure of Material Connection: Some of the links in this post may be "affiliate links." This means if you click on the link and purchase an item, I will receive an affiliate commission. Disclosure in accordance with the Federal Trade Commission's 16 CFR, Part 255. This site is a participant in the Amazon Services LLC Associates Program, an affiliate advertising program designed to provide a means for sites to earn advertising fees by advertising and linking to Amazon.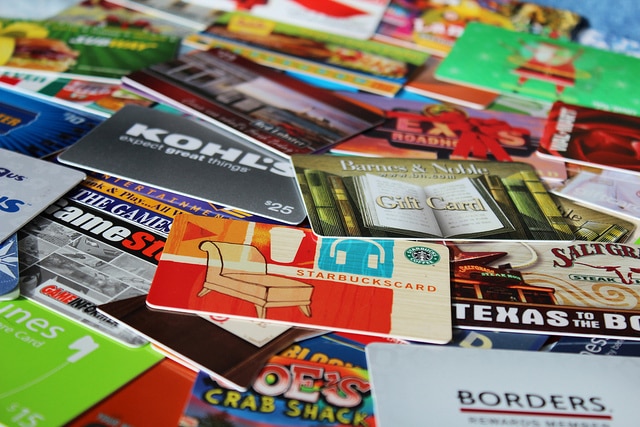 It's that time of year again – Christmas is just around the corner and it's time to start buying presents for your family and friends (or sit there feeling extremely smug if you're one of those annoying people who had already bought, wrapped and labelled all of their gifts by September!).  You might know exactly what to buy your best friend, but what on earth do you buy their teenage son or daughter when you know hardly anything about their interests?!
The answer to that question used to be easy – money. But the idea of giving or receiving money has started to become rather impersonal in some peoples' eyes, and the (arguably) more thoughtful version of money has started to come into play more and more – the gift card. These vouchers are an incredibly convenient gift idea for time-pressed consumers, but are they actually a good present to give to someone?
Yay
One could argue that any present is a good present, as it shows that somebody is thinking of you. A gift card certainly beats money in this respect, as it shows that the recipients' interests have been taken into consideration.  Gift cards are offered by an enormous number of brands, which means a thoughtful choice can still be made.
If you are buying a present for somebody that you do not know much about, it could be for a friend's family member or be part of a Secret Santa in your office, gift cards can also be a personal yet safe option! People obviously want the recipient to love their present, and by giving them a gift card it presents them with the freedom to buy something that they would enjoy. If you really have no idea about a person's interests, you can also purchase gift cards that incorporate a huge number of different retailers, which makes it even easier for them to spend the credit on the card. 
Nay
It is no surprise that almost all retailers, both high-street and online, offer gift cards to consumers. They are an extremely profitable asset for businesses, as many gift cards end up being forgotten about or the balance is not always fully (if at all) redeemed.
Consequently, whilst giving your sister the freedom to choose something in her favourite clothing shop with a gift card may seem like a loving idea, she may well forget about or misplace this voucher and never actually receive a tangible present at all! The majority of gift cards do not come with a guarantee and, consequently, the consumer has no rights if he or she loses them.  With cash, however, people are likely to spend this far quicker or put it straight into their bank – thus decreasing any chance of losing it. Some gift cards also come with a validity period or an expiry date, which can leave the consumer with a plastic card worth nothing if they lose track of when they received it.
Furthermore, with an increasing number of retailers going into administration in recent years, gift cards are actually becoming quite a risky present. Many retailers that find themselves in this position often reject gift cards. This has been the case recently with companies such as JJB Sports, HMV and Blockbuster.
Then there's the fact that for many people gift-cards are just as impersonal as cash. Pick something up last minute from right next to the cash register hardly suggests you've put in any time or effort – it's as if you're buying something out of obligation, rather than actually caring about the person whatsoever.
Yay or Nay?
So, yay or nay? Gift cards undoubtedly have a more personal and thoughtful edge to them than simply placing a tenner in a Christmas card, and they are fantastic if you've left your Christmas shopping until December 23rd, but they can be a nuisance to the recipient. In fact, millions of pounds worth of gift cards go to waste in peoples' wallets or desk drawers every year. Furthermore, they definitely don't show as much thought as  a physical gift.
In short, gift cards are acceptable if you find yourself in a position where you have to buy a present for somebody you know little about. They can also be a life-saver if you've lost track of time and have left your shopping to the last-minute. If you're buying a present for family, a friend or a loved one, however, find the time to buy them something material or an experience that you think they would enjoy. Don't be scared that they won't like it – "it is the thought that counts" remember!
Author Bio
Written by Ben Skinner of competition website MyOffers who offer the chance to win a variety of fantastic prizes in their free competitions! Visit them online at www.myoffers.co.uk