Disclosure of Material Connection: Some of the links in this post may be "affiliate links." This means if you click on the link and purchase an item, I will receive an affiliate commission. Disclosure in accordance with the Federal Trade Commission's 16 CFR, Part 255. This site is a participant in the Amazon Services LLC Associates Program, an affiliate advertising program designed to provide a means for sites to earn advertising fees by advertising and linking to Amazon.
If you're like me, there's many a time you've stopped and had to think "What should I give my Grandma for Christmas?"  Most of the time, our grandparents have everything that they need, and then some.  Many really want our time, which can be rather difficult when we live a long way away.  This gift idea is quite straightforward to create on one side, but takes a bit more effort on the other.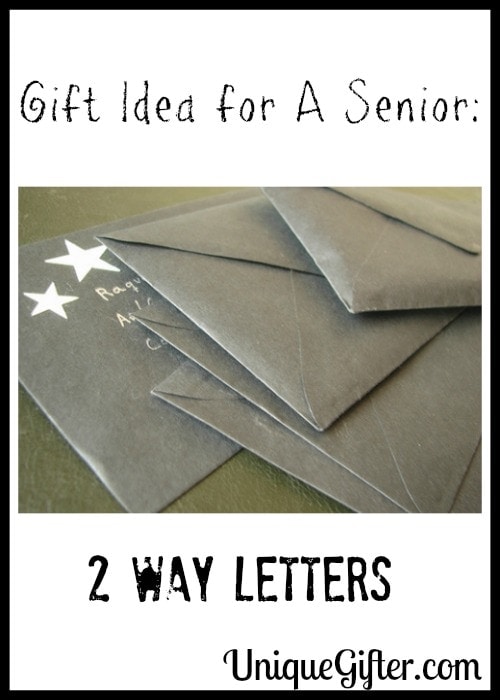 2-Way Letters – Part I
Put together a nice stationary set for the senior in your life.  You can include a bunch of different cards, envelopes and letter paper.  Throw in a nice pen or two as well.  Next is the part that makes it special: pre-address and stamp a bunch of the envelopes with the names and addresses of family and close friends (of the senior, not of you!  Unless, of course, they would like to send a lovely letter to a stranger.).
You have basically just created a to-do list gift, however you took away the hard part and now all that they have to do is write something lovely and pop it into the mail.  Plus, most of the time, doing so causes the recipient to feel obligated to send a response, creating a "boomerang of happiness."  Cheesy?  Maybe, but I still think I should trademark it.
2-Way Letters – Part II
Part II is trickier.  You want to address several envelopes, and stamp them, with the address of your gift recipient senior.  Then, you need to distribute them to people who will write on them and then pop them in the post.  It is pretty much the same as the Going Postal destination wedding gift idea.  Your gift recipient will be able to feel the love not just from you, but from a whole bunch of people.  All you did was take out one of the hardest parts, getting started.
Pop out to your local dollar store or stationary store and put together this very easy, but very lovely gift idea for a senior, and send some love on its way!
Do you like receiving "real" mail? I sure do.
[Photo – Creative Commons Attribution Share Alike – tnarik]