Disclosure of Material Connection: Some of the links in this post may be "affiliate links." This means if you click on the link and purchase an item, I will receive an affiliate commission. Disclosure in accordance with the Federal Trade Commission's 16 CFR, Part 255. This site is a participant in the Amazon Services LLC Associates Program, an affiliate advertising program designed to provide a means for sites to earn advertising fees by advertising and linking to Amazon.
This New England state is a lot more than sailing trips and lobsters, although you could enjoy both on your visit. There are actually some adrenaline junkie experience gifts in Connecticut that you should have on your radar.
Adrenaline Junkie Experience Gifts in Connecticut
These gift ideas are perfect for thrillseekers that you want to give the gift of a memory to, rather than things. Whether they're Connecticut locals or tourists, there's plenty to explore around Hartford, Bridgeport, and the state of Connecticut.
Chances are your thrillseekers already been on a helicopter ride. Sure, they're cool, but they're not exactly the most thrilling type of air transportation. Well, that is unless you're flying it yourself.
Need to know: This is a better gift idea for locals than tourists. They have an accredited private pilot course that they can take in stages. They also accept payment plans if you're giving this gift to a child or spouse.
Where it is: Ellington, Connecticut which is just half an hour outside of Hartford. Perfect for someone who lives in the area who wants to get their private or commercial license.
The adrenaline experience: Learning to fly a helicopter yourself is pretty thrilling, especially when you can then go on your own adventures after. Or they can even take lessons to be a commercial pilot for an exciting career change.
Click for more details: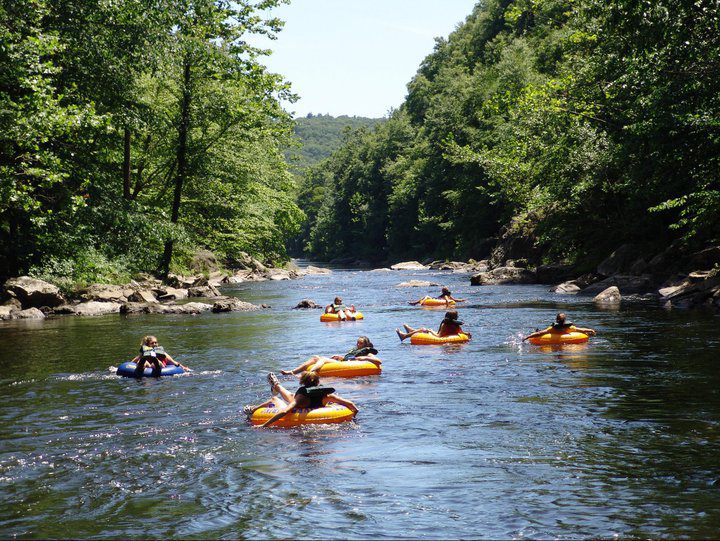 This is something a little different if your thrillseeker is tired of whitewater rafting or wants something a little bit more relaxing. Sending them down the Farmington River rapids in a tube makes this one of the best unique adrenaline junkie experience gifts in Connecticut.
Need to know: It's only $20 a person including your rental, so it's a great budget-friendly experience gift idea in Connecticut. There's even a bus that takes you back up the river!
Where it is: You'll find the rental shop and Farmington River in New Hartford, Connecticut. It's less than an hour drive from Hartford if you're looking for a fun day trip idea.
The adrenaline experience: You'll be floating down level 1, 2, and 3 rapids all on your own. You'd think it would be easier to float down in tube rather than rafting, but you'll have no ability to steer or turn yourself forwards.
Click for more details:
Whether it's their first time or they're experienced skydivers, this miraculous gift will delight any adrenaline junkie. They offer tandem dives and can help you get your license to dive solo.
Need to know: If you are not licensed you'll have to do a tandem dive, which means you'll be skydiving with a professional. Want another reason to gift a skydive here? They offer a birthday rate, perfect for a birthday gift idea.
Where it is: They take off from an airport in Danielson just an hour east of Hartford.
The adrenaline experience: They know that freefalling is the best part of a skydiving experience which is why they drop you at 14,000 feet instead of the usual 10,000. That means a more thrilling skydive experience.
Click for more details:
This is a great gift idea for someone who likes to push their own body to the limits and loves the adrenaline of dangerous situations. Everything is up high, and they have both climbing and ziplining activities included.
Need to know: You'll be able to visit with all ages, but there are more challenging courses for someone who's more adventurous. They also offer gift cards which makes this a great gift idea for someone who lives in the area or who's planning a trip to Connecticut.
Where it is: This adventure park is located in Bridgeport, Connecticut, so it's a perfect activity if you live there or nearby.
The adrenaline experience: Something they have that's unique is your harness travels with you throughout the park so you can explore as boldly, and quickly, as you want. They let you climb for 3 hours too so you can explore all this park has to offer.
Click for more details:
Most big amusement parks have an array of thrill rides that will make even the biggest adrenaline junkie scream. Lake Compounce is no exception. They also have a haunted graveyard for Halloween so thrillseekers can get their scare on too.
Need to know: Like most amusement parks you pay admission to get in then you can ride the rides all day long. Give them tickets, a gift card, or a season pass for an exciting experience gift idea.
Where it is: Bristol, Connecticut, which is less than an hour away from Bridgeport or Hartford, the close proximity makes season passes a excellent gift idea for locals or families.
The adrenaline experience: They have 13 exciting thrill rides to choose from. Some are standard amusement park rides, but there are a couple of adrenaline junkies won't want to miss. There are unique coasters like the Sky Coaster which has riders soaring above the park freely, and the Phobia Fear Coaster is New England's first triple launch coaster. But, the biggest reason to visit this park, is their Boulder Dash Coaster. It's been voted number 1 wooden roller coaster in the world several times and regularly stays in the top 5. You can also check out the Wildcat that's been there since 1927.
Click for more details:
Ok look, I might have said that flying a helicopter is cooler, but there is something special about a helicopter ride, especially for a travel experience gift idea.
Need to know: They offer sightseeing tours with up to 4 passengers, so this is a wonderful group gift idea. They have 30 to 60-minute trips along the Connecticut shoreline or overlooking NYC.
Where it is: You'll take off from Yalesville, Connecticut, just 30 minutes from Hartford.
The adrenaline experience: Maybe not the most heart-racing thrill you can find, there is still something super fun about flying over a city and looking down. This would be a great addition to an action-packed itinerary. Plus, they're luxury helicopters, so it truly is a once in a lifetime experience.
Click for more details:
When you're shopping for adrenaline junkie experience gifts in Connecticut, you should look for activities that will thrill your recipient, but also be something unique for them. These are some gift ideas that really can't go wrong with a thrillseeker! What's your favorite thing to do in Connecticut? Let us know on Twitter – tweet @UGifter.
Find More Experience Gifts Near Me