Disclosure of Material Connection: Some of the links in this post may be "affiliate links." This means if you click on the link and purchase an item, I will receive an affiliate commission. Disclosure in accordance with the Federal Trade Commission's 16 CFR, Part 255. This site is a participant in the Amazon Services LLC Associates Program, an affiliate advertising program designed to provide a means for sites to earn advertising fees by advertising and linking to Amazon.
Delaware is a small, often overlooked east coast state that is full of natural beauty and amazing beaches. But did you know there are adrenaline junkie experience gifts in Delaware too? That's right, so don't rule out this little state for your next vacation destination – even if you're a thrillseeker.
Adrenaline Junkie Experience Gifts in Delaware
With 15 significant beaches, it wouldn't be surprising that you'd want to vacation in Delaware. Even if you're a local, though, these adrenaline-fueled gift ideas might be something you haven't tried, or you want to share with someone else. Your gift-giving will be next level when they unwrap an experience gift that turns into a memory for life.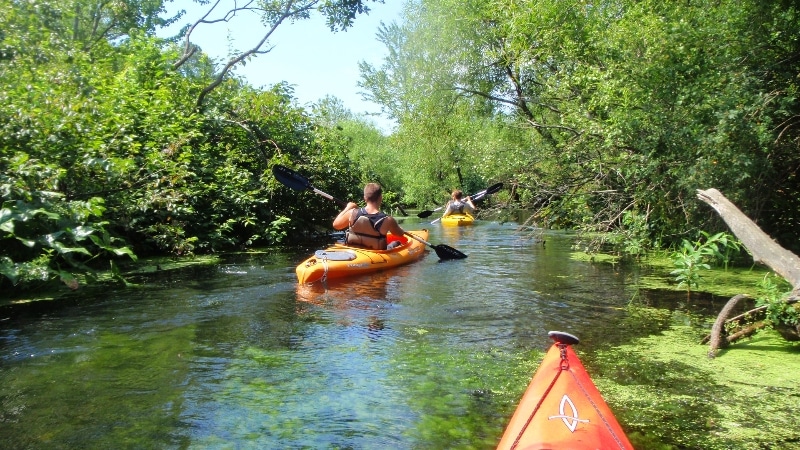 Plenty of people kayak on rivers and lakes, but few get the opportunity to do it on the Atlantic Ocean. Delaware is one of the few places this unique type of kayaking is possible.
Need to know: They offer kayak rentals as well as sailboats and paddleboards. If you're gifting to someone who's never done this before, though, there are also lessons that can be booked. What's more, they also offer kayak tours so you can explore the east coast with a knowledgeable guide.
Where it is: You can rent kayaks from Coastal Kayak in Fenwick Island, Delaware. It's only 2 hours south from Wilmington and just over an hour from Dover.
The adrenaline experience: Kayaking on the ocean is less predictable than a lake. There will be rough water and waves sometimes, as well as ocean life. Shark attack, anyone? OK fine, not likely, but you will have a thrilling adventure you can't find on still water.
Click for more details: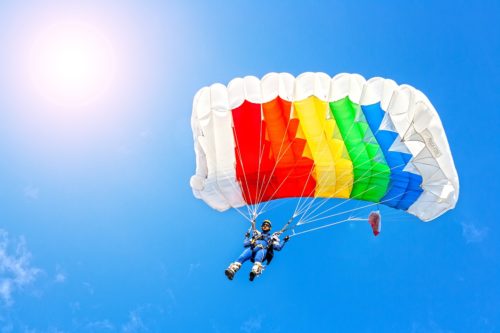 Sailing through the air from unimaginable heights is the secret to the thrill of skydiving. Adrenaline junkies the world over swear by skydiving as one of their top bucket list items. And for good reason! Skydive Chesapeake provides guests with a professional skydiving experience and the memories to go with it. Whether you're new to skydiving, or a seasoned vet you'll find your wings over the one of a kind Chesapeake region!
Need to Know: Skydive Chesapeake gives you the opportunity to experience a guided, professional tandem jump as well as a First Jump Course. Video packages are also available if you want to capture the thrilling experience for years to come!
Where is it?: Race Track Rd, Ridgely, MD.
The Adrenaline Experience: Skydiving is truly a thrill like none other! See the gorgeous scenery from a bird's eye view and see what all the adrenaline junkies are clamoring about. If you're new to this extreme sport, book a tandem jump for the thrill of a lifetime. Can you think of a better way to see this stunning stretch of the United States?
Click for More Details:
Ever wanted the thrill of playing a video game but in real life? That's what paintball gives you. This would make a tremendous adrenaline-fueled birthday party or gift idea for adults and teens.
Need to know: Paintball is a fun, exciting outdoor sport where you shoot each other, or other teams, with paintballs. There's a lot of running, hiding, and of course surprises when you get hit. They have individual bookings, but groups make paintball a lot more fun.
Where it is: This paintball field is located in Georgetown, but there are a few others in Delaware too.
The adrenaline experience: Paintball is as exciting as playing a video game with all the thrill and excitement of shooting and being shot at without the danger. This could end up as an enjoyable, exciting time for a group of friends especially if they're competitive.
Click for more details: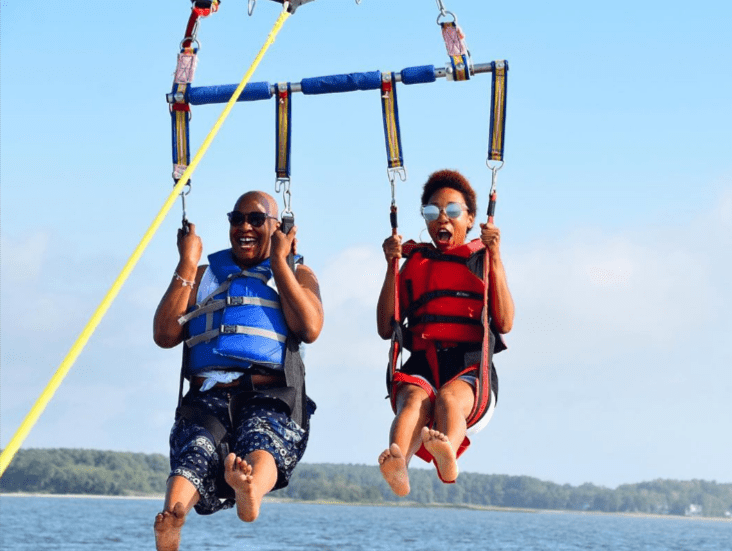 Who wants to look at the beach from the shore? Make their next beach trip much more thrilling, and memorable, by gifting a Dewey Beach parasail ride.
Need to know: You get pulled behind the boat for an aerial view of the shore. They also offer gift certificates so you can give this as an "anytime" gift for someone's next vacation. Even though it's exciting, parasailing is entirely safe, so this is a great gift idea for adventurous families.
Where it is: As you may have guessed, Dewey Beach, Delaware, if you live in Dover it won't even take an hour to get there.
The adrenaline experience: You'll be sailing a thrilling 800 feet in the air, pulled behind a boat. Although you don't have to get wet, that can also 'dip' you in the water. They can also document the whole thing for you with pictures or video. What's more, adrenaline junkie kids can ride along as young as 6 for an unforgettable family vacation.
Click for more details:

Sailing down the lazy river at this waterpark might be a welcomed break from thrill-seeking, but that doesn't mean it can't be one of our adrenaline junkie experience gifts in Delaware. They have both admission costs and season tickets as great gift ideas and even offer gift certificates.
Need to know: This fun park has a lazy river, swimming pools, bumper boats, batting cages, mini-golf, and of course waterslides. Your admission gets you into the swimming and slides, but you'll have to pay extra for everything else.
Where it is: You'll find this fun spot at Rehoboth Beach in Delaware. At less than an hour from Dover, a season pass would make a great gift idea for someone who lived in the area.
The adrenaline experience: Nothing beats a day in the pool! Whether it's the large bucket dumping water on your head or one of the many water slides, thrillseekers of all ages will have fun here. This is no small water park; you'll find plenty of exciting slides to get your thrill on.
Click for more details: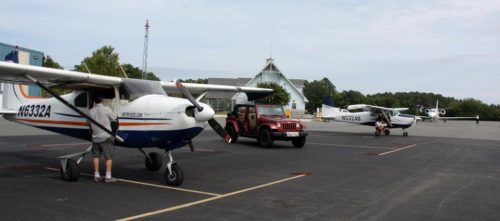 There isn't anything quite so thrilling as freefalling through the air, and what Delaware adrenaline experience gift guide would be complete without it. Skydiving always comes out on top as one of the best adrenaline junkie experience gift ideas out there.
Need to know: Tandem skydiving means even a complete beginner can enjoy a full skydiving experience. They also offer 3rd person video and stills so you can capture your entire experience at the best quality so every single moment can be relived again and again.
Where it is: Although they're located in Ocean City, MD, they're just 15 minutes from Delaware!
The adrenaline experience: You'll be dropped from up to 18,000 feet for a once in a lifetime experience. That means a whole minute of adrenaline-fueled freefall!
Click for more details:
So from exciting water parks to jumping from a plane, there's plenty of adrenaline junkie experience gifts in Delaware just waiting for you give someone. Or be adventurous and gift one to yourself, you deserve it. Even if you decide to visit Delaware to soak up some of their amazing beaches, something thrilling really isn't too far away.
Find More Experience Gifts Near Me