Disclosure of Material Connection: Some of the links in this post may be "affiliate links." This means if you click on the link and purchase an item, I will receive an affiliate commission. Disclosure in accordance with the Federal Trade Commission's 16 CFR, Part 255. This site is a participant in the Amazon Services LLC Associates Program, an affiliate advertising program designed to provide a means for sites to earn advertising fees by advertising and linking to Amazon.
Since it hit the gaming world in 2016, Overwatch has gained a lot of success. With over 7 million players, Overwatch is now one of the most popular games in existence and with it being such a prominent title. There's bound to be a lot of cool merchandise out there. Sure enough, we've found some of the best gifts for the Overwatch fan who just can't put the game down.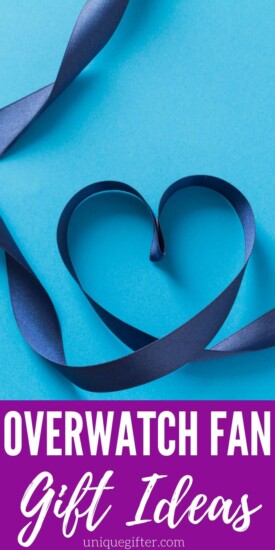 Best Gifts for the Overwatch Fan Who Can't Get Enough
Obviously, with over 7 million players, this game is bound to have a lot of rabid fans that load up on all sorts of collectibles and cool gear and chances are high that you know one of them. We understand that with all that awesome merchandise and gift ideas out there, it's hard to pick the right one, so we've done it for you! Check out these Gifts for the Overwatch fan.
Overwatch Blanket/Comforter
What better way to spend a lazy day of laying around playing Overwatch than swaddled in this slick-looking blanket? Featuring icon art for the majority of the characters, it's definitely unique!
D.Va Plush Pillow
D.Va is one of the most adorable and beloved characters in the game so it's only fitting that this pillow is just as cute and sure to be cherished!
Sombra Snapback Ballcap
Sporting a sleek and dark look, this ballcap perfectly encapsulates the feel of the shadowy character Sombra from the hit game. Officially licensed from Jinx!
Overwatch Hoodie
Help the Overwatch lover in your life look cool while they stay warm with this fashionable hoodie. Made with the minimalist in mind, this black hoodie sports the recognizable Overwatch logo on both sides.
Framed Overwatch Poster
The gang's all here in this awesome looking framed poster featuring the original lineup for the game. Sure to look great on any fan's wall!
Dorado Showdown Lego Building Kit
Everyone knows that you don't have to be a kid to enjoy Legos! This cool collectible is a Lego replica of the Dorado map and even has a payload included!
Overwatch Pint Glasses
This is a pretty rad set of glasses that we're sure any fan would love to own! Each glass featuring a separate character, you get Tracer, Reaper, Winston, and Widowmaker included.
Mercy Funko Pop Figure
Having her own devoted set of players, there's no shortage of Mercy love when it comes to gifts either! This figure gives the angel a very cute funko pop makeover!
Loot Box Coin Bank
Talk about a real loot box! It's common knowledge that piggy banks just aren't cutting it anymore when it comes to spare change so help your gift recipient save in style.
Overwatch Looksee Box
Another fantastic box full of collectibles, this thing is pretty much a loot pinata and is even packed with a fleece blanket!
The Art Of Overwatch
Per Blizzard's usual style, Overwatch has a unique art style and we think that it's a big basis for its appeal. This book has a cool behind the scenes look at the creative process along with early artwork!
Jinx Overwatch Laptop Bag
Jinx is one of the biggest brands in the gaming world, so they were sure to pop up on this list again and they've definitely nailed it with this sweet laptop bag! Including tons of pockets for all gamers on the go!
Overwatch Bed Set
Unlike the more flamboyant and colorful designs that a lot of the merchandise features, this is a more subdued and mature look. Perfect for that gamer that loves the series but could do without all of the colors that comes with it!
Genji Cosplay Hoodie
This stylish hoodie is modeled to look like Genji's cybersuit but is so low-key that your Overwatch fan could definitely get away with wearing it day to day!
Mercy Gaming Mousepad
This mousepad was designed with the gamer in mind. Being built wider than normal mousepads, the lucky gamer that receives this will have plenty of room to roam with their mouse and it sports some beautiful art of the popular healer Mercy!
Overwatch Wallet
It's like a regular wallet, only way cooler! This snazzy looking wallet is bound to get a few looks of nerdy approval when fans pull it from their pockets.
Reaper Funko Pop Figure
Reaper is one of the coolest and beloved characters in the game and he's looking cuter than ever. This Figure makes Reaper look as adorable as he is fearsome!
Overwatch License Plate And License Plate Holder
Even when fans are riding around town, they can proudly show off their love for Overwatch with these cool looking license plates and clever holders!
Play Of The Game Coffee Mug
Sure to have your fan in a winning mood with their morning dose of caffeine, this mug is customizable with their name or, even better, their Gamertag!
Tiny Lucio Night Light
We're not sure what's cooler when it comes to this Lucio night light; The awesome design of the light or the fact that it's only 2×2 inches!
D.Va And Tracer Flip Print
Got a fan in mind that enjoys changing it up? This print gives them two for the price of one while featuring two of Overwatch's most popular characters!
Reaper Wall Decal
If you've got a fan in your life that's bursting with Overwatch pride, they're sure to love this decal that uses optical illusion to make it seem like Reaper is bursting through their wall!
D.Va Gaming Mouse
If you haven't noticed by now, D.Va gets a lot of attention when it comes to the game. This would be absolutely perfect for a bundle gift along with the Mercy mousepad!
Tracer Pistol Replicas
These fantastic pistol replicas are bound to thrill any fan of this series! Handmade and 3D printed, they tried (and succeeded) in bringing these iconic weapons to life!
Overwatch Planter
Whether it comes to having the tiniest herb garden or just using them around the house for an artistic feel, we're sure that any fan would feel lucky to have these in their life!
"Nerf This" Dogtags
"Nerf This!". Every player knows this phrase and how they feel about it depends on whether D.Va is on their team or the enemy's. It's a classic phrase and this fashionable necklace is sure to be adored!
Overwatch Banner
This handmade banner is sure to excite any fan receiving it! Handmade and emblazoned with the Overwatch logo, it's bound to spice up any wall it hangs on.
Junkrat Print
Featuring art of every fan's favorite Aussie pyro, this print is guaranteed to be a hit with any recipient! Picturing his hair as being singed (likely from a recent explosion), it's a wonderful depiction of the character!
Genji Sword Replica
The last item on our list is definitely not the least! It's one of our favorite items and it's a replica of Genji's sword that is extremely well done and guaranteed to be welcomed into their collection with open arms!
We're positive that we've made the trials and tribulations of finding that perfect gift for the Overwatch fan in your life a bit easier with this list but we'd love to hear more from you about it! If you've nailed that gift with something that we've listed or found something that you adore, feel free to let us know on Twitter (@ugifter) or Instagram (@uniquegifter)!