Disclosure of Material Connection: Some of the links in this post may be "affiliate links." This means if you click on the link and purchase an item, I will receive an affiliate commission. Disclosure in accordance with the Federal Trade Commission's 16 CFR, Part 255. This site is a participant in the Amazon Services LLC Associates Program, an affiliate advertising program designed to provide a means for sites to earn advertising fees by advertising and linking to Amazon.
Working retail isn't for the faint of heart! Often times the hours are garbage, and the customers may treat you like garbage as well. However, it is a job that must be done, and must be done with a smile on one's face. Cheer up that retail worker in your life with any of the following great gift ideas. They are sure to be appreciated, more than their customers appreciate them!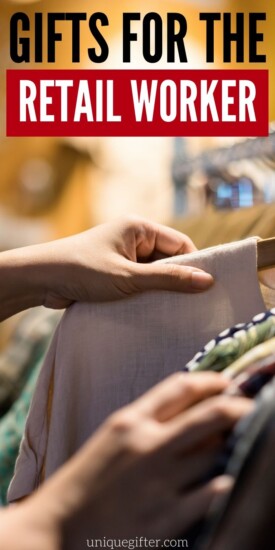 The Best Gifts for the Retail Worker in Your Life
Treat them to something fun, practical or heartwarming to help get them through their day.
Mini Hand Sanitizers
When working in retail there is no such thing as too much hand sanitizer! These mini hand sanitizers are perfect. They come in gel cases that can easily hang from a belt loop, or even fit in an apron pocket. The hand sanitizers are infused with essential oils for a little extra rejuvenation.
Salad Container
There's nothing worse than a soggy salad (well, except for when a coworker steals your lunch from the fridge). This Bentgo container is made to keep the dressing separate, and the salad crisp. The top compartments can be utilized for salad toppings, or even snacks for throughout the day.
Personalized Utility Knife
Retail workers are constantly opening and breaking down boxes all day long, so a quality box cutter is an absolute must. Check out this utility knife that can even be personalized with initials!
Lunch box with Lock
Remember how there is nothing worse than someone stealing a lunch that doesn't belong to them? Take a look at this smell proof lunch box to prevent unwanted odors, and unwanted Fred from sneaking a snack.
Retail Worker Coloring Book
Yes, they really do sometimes only pretend to check the backroom. While coloring has been shown to relieve stress, these funny quotes are sure to let out a bit of laughter as well.
Color Changing Coffee Mug
The badass, ninja, superstar employee is bound to make her coworkers jealous with this amazing color changing coffee mug.
Portable Power Bank
You would be surprised at just how quickly a phone can die, when trapped inside a thick walled building (and maybe even a locker!). A portable power bank is a great gift idea, to make sure the retail worker doesn't end up going home with a dead phone.
Daily Etiquette Book
Dealing with rude and angry customers is anything but pleasant. But if one wants to keep their job, they must deal with it, and deal with it politely. This handy book on daily etiquette may happen to save your friend's job one day!
Pepper Spray
Retail workers can be heading in before sunset, as well as heading home in the late evening hours. Keep them safe with this pepper spray that can easily attach to their keychain. There's even an option to order it with a practice spray!
Vulgar Gratitude Journal
If vulgarity isn't an issue, this gratitude journal is a great way to blow off steam, as well as jot down a daily thought of gratitude.
Stemless Wine Glass
One really doesn't need a reason to drink a glass of wine, but as a retail worker, there are lots of them. Customers are easily one reason!
Motivational Stress Balls
Not only can these stress balls help release stress by squeezing the life out of them, they also have some lovely (and vulgar) quotes on them for a little extra inspiration!
Diary of a Checkout Girl
Do you know a checkout girl who has worked in the supermarket business for a little too long? Then this book is for her! It's full of relatable laughs and stories from the supermarket industry.
Lunch Cooler with Containers
This lunch cooler is a great idea for a retail employee who needs a cool place to store their lunch and snacks for the day. The set comes with a cooler, ice pack, and 3 containers to keep snacks separate.
Unicorn Retail Worker Mug
https://www.etsy.com/listing/722246327/retail-worker-gift-idea-retail-worker?ga_order=most_relevant&ga_search_type=all&ga_view_type=gallery&ga_search_query=retail+worker+gifts&ref=sr_gallery-1-31&organic_search_click=1
This mug is completely acceptable to take to work, as it will not offend neither the customers, or fellow coworkers. Plus, it's pretty funny!
1 Gallon Water Bottle
There's not always time to step away and refill a water bottle when you are working retail. This giant water bottle has a one gallon capacity, as well as motivational markers, to encourage staying hydrated.
Insulated Tumbler
If that retail worker you know prefers ice cold water throughout the day, this double walled, insulated stainless steel tumbler will keep her water cold. It even keeps hot drinks hot. It comes in a range of both colors and sizes!
Retail Worker Stickers
While these stickers are great for keeping one's schedule straight in their planner, they are also cute just to use wherever! The hair is even customizable, to match your favorite retail worker's hair.
Nice Person Mug
Working retail can change you! Fortunately whatever is inside this mug can still keep the retail worker happy.
Cashier by Day Shirt
Cashier by day, witch by night! What a fun, long sleeve shirt to wear around Halloween!
Walk a Mile at the Mall Mug
Know someone who works at the mall? If so, they likely practically live there, too. This funny mug is more than fitting!
Super Cool Manager Tee
Check out this tee for the super cool manager in your life. The shirts are unisex, to fit all, and come in various colors to choose from!
Tri Comfort Inserts
Standing and walking on your feet all day long can really take a toll on the body. These shoe inserts can make getting through the day (and week) a whole lot easier!
I Hate Morning People
The perfect gift for that person who despises working the opening shift, well before they are ready to open their eyes.
Lined Cashier Journal
Everyone has a favorite cashier they don't mind waiting in line for. This awesome, multitasking super ninja journal is a great way to show appreciation!
Team Manager Mug
Because there are many times when your team manager truly is a miracle worker!
Loss Prevention Sign
Most loss prevention specialists will have their very own space to work from. This sign will look perfect hanging in their work area!
Custom Buttons
Is your favorite retail worker allowed to decorate their apron or uniform? If so, check out these awesome buttons that you can have customized with your own photos and designs!
Employee of the Month DVD
Every supermarket employee should watch this movie at least once!
Pun Bumper Stickers
Looking for a funny gift for that amazing cashier, purchasing agent, or buyer of yours? Take a look at these funny bumper stickers!
Gangsta Wrapper Mug
With the holidays come more retail job opportunities, including gift wrappers! Check out this gangsta wrapper mug.
Milk Earrings
Supermarket clerks, especially dairy managers and clerks will be getting all sorts of compliments on these fun earrings!
Hopefully you've enjoyed these awesome gifts for the retail worker in your life! Spruce up their day, and get them all set for the dreaded holiday shopping season with some of these unique gifting ideas!