Looking to create a DIY gift kit? Get crafty and make your own gifts. Recipients also love a personal touch to gifts. These videos will show you how to make a gift kit with all materials needed in links.
DIY Gifts with Video Instructions
DIY Hot Chocolate Kit
This DIY hot cocoa kit is perfect for the winter holiday season. You just need a few items and a cute mug to put this kit together. This video contains two versions of the recipe.
DIY Drugstore Makeup Gift Set
A drugstore makeup gift set is a great last minute gift idea. Just put your favorite makeup items together in a gift set. This video has recommendations for the best products to buy at drugstores.
DIY Dollar Tree Craft Gift Set
This is a gift idea for young girls who love arts and crafts. You can get everything you need from the dollar store.
Snowman Spa Gift Set
This craft is perfect to make with children. Give this gift set out during the winter holiday season for a gift that gets loved. Contains spa items for the women in your life.
DIY Mason Jar Spa Gift Set
Give the spa in a mason jar with this cute gift set. It is an affordable way to go to a spa for a mother, grandmother, sister or friend
DIY Christmas Gift Set
Is Christmas coming up? Why not give out this gift set? It has all the festive items you need.
DIY Nail Polish Gift Set
This nail polish kit is so easy to make. You just need a couple items to put a cute nail polish gift set for your girlfriend or sister. The video has everything you need.
DIY Netflix Date Night

This is perfect for Valentine's Day or just go give a friend. Fill with candy, popcorn and other goodies. Movie lovers will love this gift.
DIY Star Wars Gift Set
Know a Star Wars fan? This gift is perfect for them. It contains a mug and coaster they will enjoy.
DIY Mother's Day Pamper Set
Need that perfect gift for your mother day? Why not create her a pamper gift set you know she will enjoy.
DIY Baby Shower Gift Set
Going to a baby shower soon? This gift set has all you need to make the perfect baby shower gift.
College Survival Kit
College can be tough. Why not create a college survival kit for a friend, son or daughter? Give it out during high school graduation.
DIY Film Lovers Survival Kit
Here is another kit for film lovers. This gift set uses a bucket to fill items with and cute DIY labels to label items. Inexpensive and easy to make, recipients will enjoy the personal touch.
DIY Sewing Kit
Crafty friends will love this sewing kit. I love that it includes a mini teddy bear along with it that also serves as a pincushion.
DIY Christmas Coffee Gift Set
This gift is under $10 to make. It is easy to put together your own coffee gift set instead of buying from Starbucks or another place. Your friend or family member will love the peppermint spoons!
DIY Disney Princess Gift Set
This gift set is perfect for young girls. You can make a gift set for any Disney princess you want.
Ultimate Grilling Gift Set
Your dad or male friend will appreciate this grilling gift set. Personalize leather aprons and grilling tools to make this gift personal. Comes in a wooden crate you can make yourself.
Handmade Teacher Gift Set

Not sure what to get a teacher? They will appreciate this handmade gift set. Choose the items you know the teacher will love.
DIY Cupcake Decorating Kit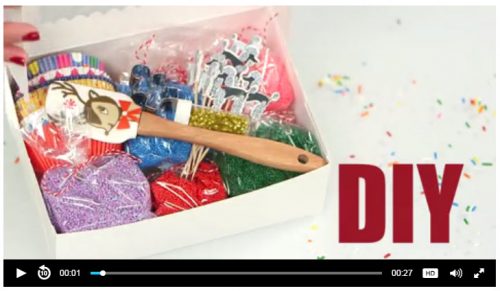 Know someone with a sweet tooth who loves to bake? They will adore this gift set with everything they need to decorate cupcakes. It is all about presentation and how you curate your gift set. Put in a mixing bowl or box with recipe cards.
DIY Cocktail Kit
This gift is perfect for your best friend or girlfriend. You just need a couple items to make a handmade cocktail kit that will be appreciated.
Which video was your favorite? Did you try any of them out? Let us know in the comments.