Disclosure of Material Connection: Some of the links in this post may be "affiliate links." This means if you click on the link and purchase an item, I will receive an affiliate commission. Disclosure in accordance with the Federal Trade Commission's 16 CFR, Part 255. This site is a participant in the Amazon Services LLC Associates Program, an affiliate advertising program designed to provide a means for sites to earn advertising fees by advertising and linking to Amazon.
Whether they live local to Detroit or they're just coming in for a holiday, these adrenaline junkie experience gifts in Michigan will have something to get even the most hardcore thrillseeker's blood pumping.
Adrenaline Junkie Experience Gifts in Michigan
Whether it's freefalling from thousands of feet in the air or a roller coaster in Michigan's largest theme park, thrillseekers of all ages are going to leave these experience gifts with memories that will last a lifetime. Giving the gift of an experience is truly something they'll hang onto for life.
There's plenty of great rafting trips to explore in the state of Michigan. These half-day trips take you down rapids (that are as extreme as you want them to be) on the Menominee River.
Need to know: There's a couple of trip options. For the gentler rapids, all ages are welcome to raft. But, for the class IV rapids, you have to be 11 years old and over 100 lbs to tackle that portion. What's nice is that it's one trip, so you raft the first part together, and anyone not wanting to do the class IV rapids can get off before they begin.
Where it is: Rafting adventures depart from their outpost in Iron Mountain, Michigan. To get there from Detroit, you might want to fly into the nearby Ford Airport.
The adrenaline experience: Well, of course, you're going to want to do those rapids. Any trip that has a "turn back" point you know is going to be great. The class IV portion is short, but these rapids are very powerful.
Click for more details:
This isn't just some tiny amusement park, it's Michigan's best! They have all kinds of thrill rides, including several thrill coasters that are definitely not for young kids.
Need to know: Tickets are purchased for the day, or you can buy a season pass. If your thrillseeker doesn't want to wait in line, the Fast Lane pass is definitely worth it.
Where it is: Muskegon Michigan just 3 hours from Detroit.
The adrenaline experience: They have a few amazing thrill coasters. One is Shivering Timbers, a wooden coaster that's a mile of adrenaline. Another Thunderhalk, a suspended coaster that will make you feel like you're flying… upside down. Third, there's Corkscrew, a multiple inversion coaster that will dizzy even the most seasoned adrenaline junkie. These are just a few of the thrill rides you can find there!
Click for more details: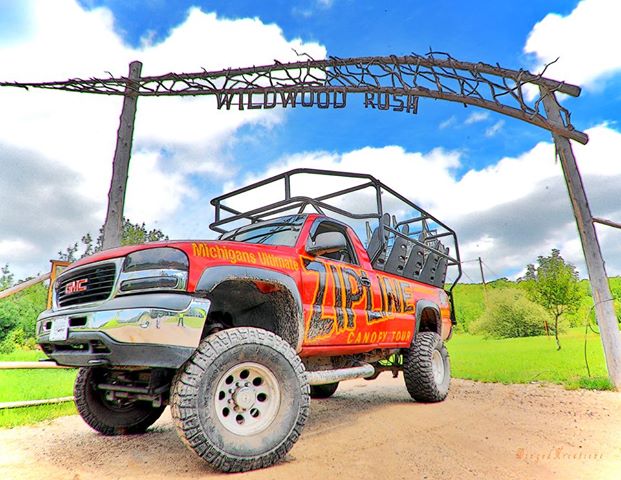 Unlike roller coasters, this is a different kind of thrill. Imagine yourself essentially falling from the treetops while being suspended by just a cable and a harness.
Need to know: They offer a full tour or single zip packages depending on what you're looking for. If you want a gift idea for locals, you can always buy a gift certificate too. You have to be between 70 and 270 pounds to do the course, though, so no young children.
Where it is: Boyne City, Michigan 250 miles or so from Detroit.
The adrenaline experience: Well, their main course consists of a 2-hour journey through the trees traversing nine different zip lines. The entire course finishes with a 1200 foot long triple racing zipline. If you want more, there's also a 45-foot free fall and climbing tower.
Click for more details: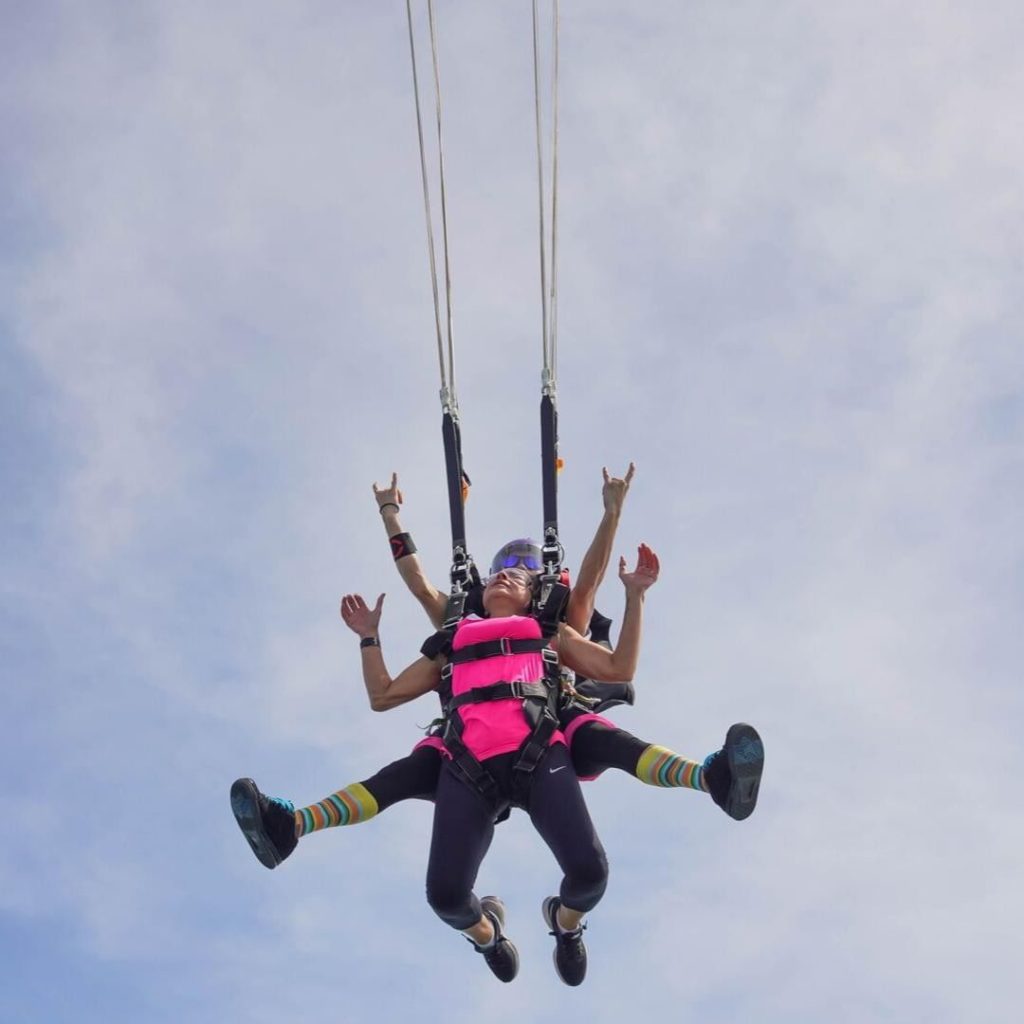 Thanks to tandem skydiving, even complete newbies can experience the thrill of jumping out of an airplane – no training required. Skydiving is said to be a once in a lifetime thrill, but after they try it, they're going to be hooked.
Need to know: Tandem skydiving means you're jumping with an instructor who will deploy your parachute and keep you safe. Sadly you have to be certified to jump solo.
Where it is: They're located in Jackson, Michigan, which is about an hour west of Detroit.
The adrenaline experience: Even if you're skydiving with your new best friend (the professional), you can't beat the thrill of the freefall. For maximum adrenaline jump from maximum height: 18,000 feet.
Click for more details:
Tired of looking for adrenaline junkie experience gifts in Michigan that are suitable winter months? This is it. They offer luge in both summer and winter so they can get their thrill on no matter what time of year it is.
Need to know: Luge is an Olympic sport, but not many "normal" people get to experience it. This facility offers an Olympic style track, only shorter and with safety in mind. You still go fast! As a gift, you can buy luge passes, lessons, or a gift certificate.
Where it is: Get your luge on at Muskegon, Michigan, just 40 minutes from Grand Rapids.
The adrenaline experience: The track, designed by a former Olympian, is 850' feet long and consists of six curves. You can reach speeds up to 30 MPH on your sled! This is one of only four luge tracks that exist in the United States.
Click for more details: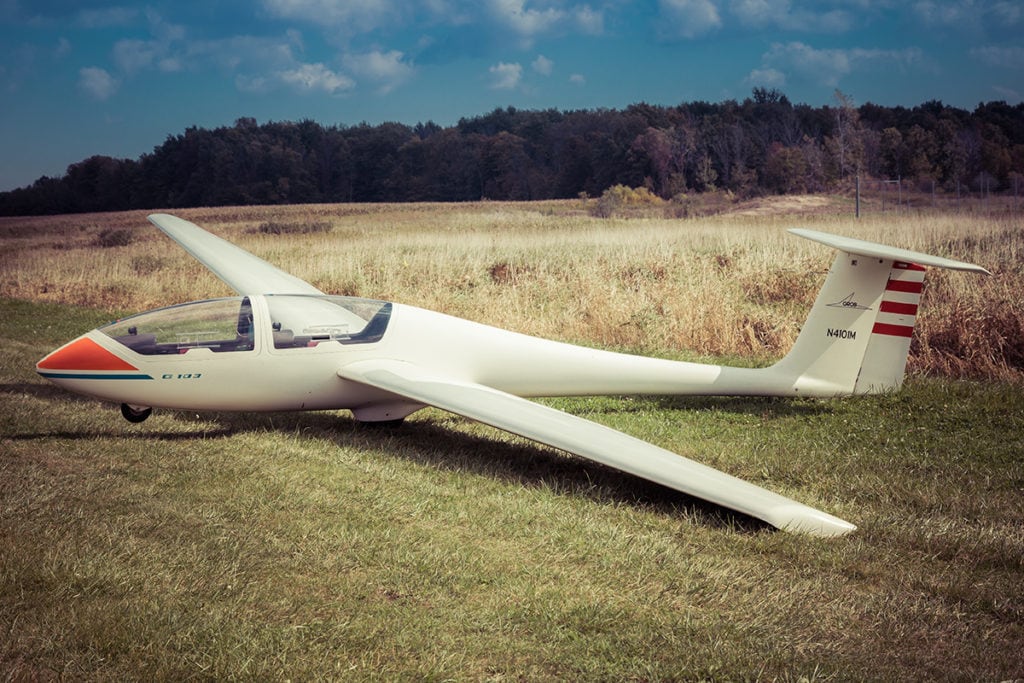 Try flying in a whole new way with a glider ride. Gliders don't have an engine, so they rely on an aircraft to tow them into the sky – but that doesn't mean you can get some thrills out of this flight!
Need to know: Glider rides are for one person aged 8 and over at a time. The duration of the trip depends on the package you take, and the quality relies on which aircraft you book. You can also buy gift certificates online, perfect for out of town gift giving.
Where it is: Fremont, Michigan, which is less than an hour from Grand Rapids.
The adrenaline experience: Gliders start 10,000 feet in the air. Because they have no engine, they're essentially falling from the moment the plane lets them go. But, they take advantage of air drafts to gain altitude. Having a professional pilot means you can get a more exciting ride too.
Click for more details:
Have you found the perfect adrenaline junkie experience gifts in Michigan yet? I'd love to hear what your favorite Michigan experiences are!
Find More Experience Gifts Near Me