Disclosure of Material Connection: Some of the links in this post may be "affiliate links." This means if you click on the link and purchase an item, I will receive an affiliate commission. Disclosure in accordance with the Federal Trade Commission's 16 CFR, Part 255. This site is a participant in the Amazon Services LLC Associates Program, an affiliate advertising program designed to provide a means for sites to earn advertising fees by advertising and linking to Amazon.
Montana is the 4th biggest state but 43rd for population, making it a pretty amazing place to experience nature. These adrenaline junkie experience gifts in Montana take full advantage of the breathtaking scenery and wildlife and are perfect gift ideas for Montana locals or visitors.
Adrenaline Junkie Experience Gifts in Montana
On of the frontier states, Montana is home to cowboys, grizzly bears, and dinosaur bones. All of which you might still find there today, especially the bears. More live in Montana than any other state besides Alaska. It's also their state coin. But we're not here for trivia so let's get to the best Monata experience gifts for thrillseekers!
Whitewater rafting and adrenaline junkies go together like cookies and milk. Whether it's a small half-day trip or a full-on wilderness adventure, they have something for thrill-seekers of all rafting skill levels. There are trips for thrillseeker families to enjoy.
Need to know: You don't have to have any experience with whitewater rafting to take on one of their guided trips, but experienced rafters can choose a self-guided tour and just rent a raft or kayak.
Where it is: West Glacier, Montana which is about 25 miles from Glacier Park International Airport.
The adrenaline experience: Although there are some great class II and III trips that are perfect for newbies, the best experience is the four days Great Bear Wilderness trip. It's the ideal adrenaline-fueled combination of wilderness camping in bear country and takes you down class III and IV rapids.
Click for more details:
Who doesn't love visiting a ski resort? There's plenty to do at this fabulous vacation destination that would be perfect for a honeymoon. Don't let that fool you, though; there's a lot of adrenaline to be found at this resort.
Need to know: Along with skiing they have a tonne of other activities including zip lines and snowmobile tours. For a gift idea, get them a package that has their accommodations and ski lift ticket bundled together. For newbies, there's lessons and rentals! Or gift a season pass to locals.
Where it is: Big Sky, Montana less than an hour from Bozeman.
The adrenaline experience: There's no shortage of adrenaline-pumping double black diamond expert runs on this mountain, perfect for the experienced downhill skier. When not mastering the mountain they can check out the 2.5-hour Adventure zipline course, one of the best in America.
Click for more details:
With tandem skydiving, everyone can be a skydiver! You and a skydiving instructor jump together for a safer, and more accessible to the general population, experience.
Need to know: Your skydive starts with a scenic 20-minute flight to make it an even better experience. Uncertified jumpers can't take pictures or video, but they offer a package so you can relive the experience… And you're going to want to.
Where it is: Whitefish, Montana, just 20 minutes from Kalispell.
The adrenaline experience: Jumping out of a plane that's flying 10,000 feet in the air only to freefall towards the Earth is enough to get your blood pumping. Don't worry; the instructor handles making sure the parachute is opened on time.
Click for more details: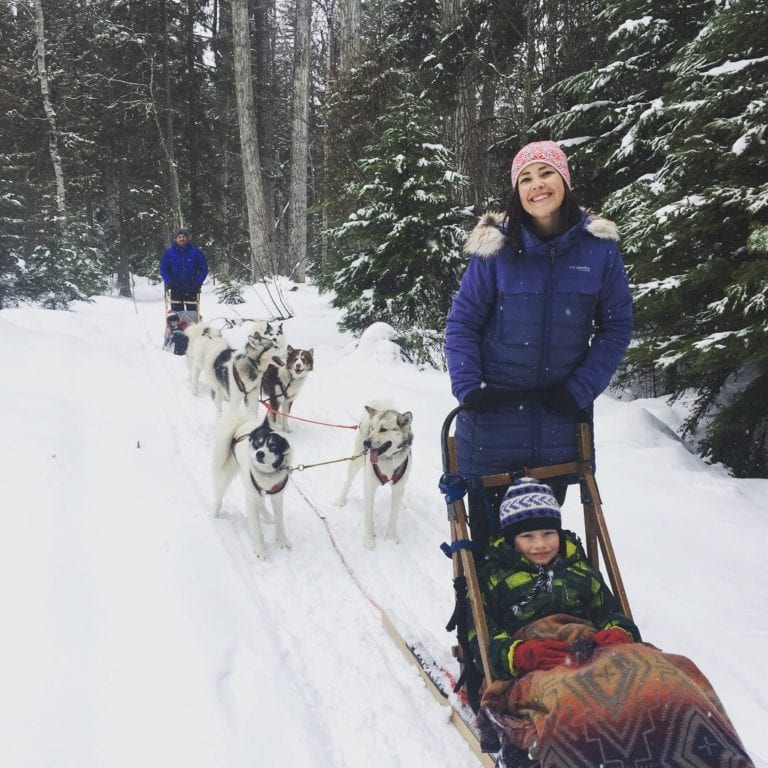 Aw, look at those hard-working pups! They can lead their very own dog sled team in this unique Montana experience gift idea. The Inuit snow dogs are a hardworking breed, and yes, you're allowed to play with the pups.
Need to know: They offer a variety of dogsled tours and packages that make a perfect winter gift idea. On these tours, they will actually get to drive the dogsled themselves, not just go for a ride. This is the perfect adrenaline junkie gift for dog lovers.
Where it is: Bigfork, Montana near Kalispell.
The adrenaline experience: The best package for thrillseekers is the overnight winter camping adventure. They'll travel by dogsled up to a great winter camping spot. The trip also includes some snowshoeing and cross country skiing. Multi-day trips with backcountry camping can be booked as well.
Click for more details:
This is one of the best summer adrenaline junkie experience gifts in Montana. If you're not familiar, flyboarding is done on the water and has them "flying" into the air like a superhero.
Need to know: They can schedule flights all over Montana, so this is a great gift idea for locals or tourists. Flyboards use water jets to propel the flyer up into the sky over the lake, and most people can learn to use them in about 10 minutes.
Where it is: They can operate on most lakes in Montana, but their office is in Whitefish.
The adrenaline experience: There are two styles of flyboarding one that's a jet pack and one that shoots from your boots like Iron Man. You can fly almost 50 feet in the air with one!
Click for more details: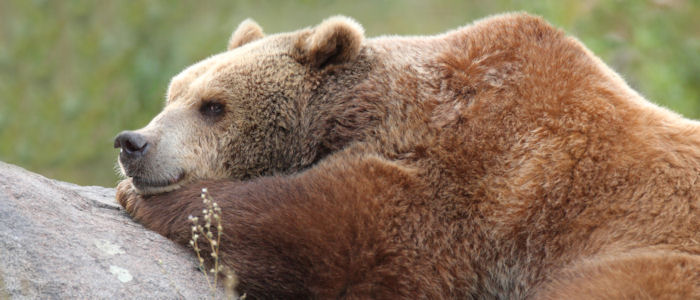 I don't know about you, but personally, I wouldn't want to come face to face with a grizzly bear when I'm out in the Montana wilderness, but this is a great way to get up and personal with these majestic animals – safely. A great family gift idea!
Need to know: Grizzlies are native to Montana, but the ones at this sanctuary wouldn't be able to survive in the wild. They rely on donations and admission for funding so a donation on behalf of your adrenaline junkie, alongside a trip to the sanctuary, wouldn't be such a bad idea! Or gift them some of their apparel.
Where it is: Bozeman, Montana.
The adrenaline experience: Get up close and personal with grizzly bears, also known as brown bears. In the wild, they're very dangerous, but this place allows you to watch them up close. Plus they offer lessons to help prepare backwoods campers and hikers for grizzly encounters.
Click for more details:
So, did you find the perfect adrenaline junkie experience gifts in Montana for your friends and family? Or did we miss something in the Big Sky state that should be on this list? Let us know in on Twitter – @UGifter!
Find More Experience Gifts Near Me