Disclosure of Material Connection: Some of the links in this post may be "affiliate links." This means if you click on the link and purchase an item, I will receive an affiliate commission. Disclosure in accordance with the Federal Trade Commission's 16 CFR, Part 255. This site is a participant in the Amazon Services LLC Associates Program, an affiliate advertising program designed to provide a means for sites to earn advertising fees by advertising and linking to Amazon.
Do you know a thrillseeker visiting the state of Massachusetts? Or maybe you're looking for gift ideas for your Boston friends? Whatever the reason, these adrenaline junkie experience gifts in Massachusetts are a great place to start for anyone who loves to get their heart rate up.
Adrenaline Junkie Experience Gifts in Massachusetts
From climbing to new heights to sinking down into the ocean, there's something for every thrillseeker in New England. These experiences make perfect gift ideas that, unlike stuff, create lifelong memories. So let's get going!

Some people like to go swimming with the dolphins or whale watching when they're visiting coastal states. Sure, they're a magnificent animal, but hardly terrifying. Real adrenaline junkies can put a spin on sea life watching with a shark dive.
Need to know: You need to know how to dive before taking this trip, so make sure the gift recipient is certified. This trip is for ages 21 and up, so keep that in mind before booking. You can book their tour online.
Where it is: Their main office is in Fairview, Massachusetts, about an hour from Boston, but boats depart from a few docs in Boston.
The adrenaline experience: They have a 98% success rate for seeing sharks, which is pretty good odds if you ask me. Some of the ones that you'll get to see are blue sharks, and they say you can get up to 10 or more around the cage at a time! There's also Makos and Thresher Sharks and rarely Tiger, Hammerhead, and even Great White sharks!
Click for more details:
Pretend you're in Call of Duty or just challenge friends and family to a game of paintball at this amazing battleground. Their playing field looks like it's straight out of a movie set or video game.
Need to know: Depending on the ages and skill levels of your thrillseekers, they offer Nerf battles, laser tag, paintball, and airsoft. They also have rentals for players without equipment.
Where it is: Bourne, Massachusetts, just an hour away from Boston.
The adrenaline experience: Although battling your friends in simulated warlike combat is pretty thrilling, their special events are where it's at for adrenaline junkies. They even have run 24-hour events in the past where you have to set up camp and procure supplies!
Click for more details: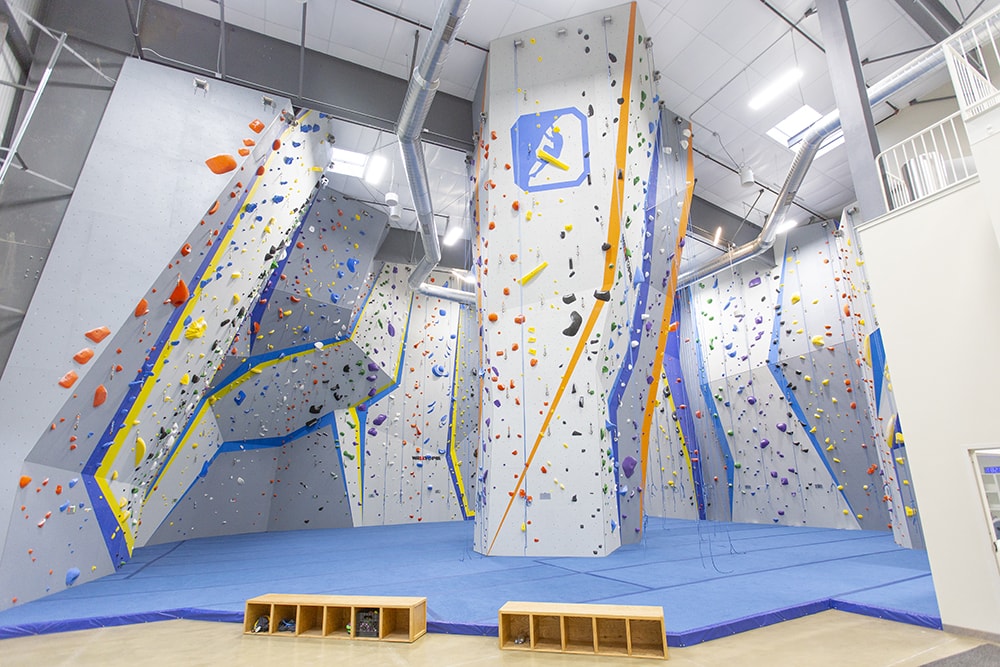 Indoor rock climbing is perfect for New England thrillseekers and one of the more versatile adrenaline junkie experience gifts in Massachusetts.
Need to know: They have experiences for kids and adults as well as beginners. You can also take climbing lessons if you're really unsure about rock climbing. Since they offer gift cards, this makes a great gift idea for New England locals.
Where it is: They have locations all over Massachusetts, including Stoneham and Boston.
The adrenaline experience: In Stoneham, they have 16,000 square feet of indoor climbing, perfect for those cold Boston, Massachusetts. As you progress in your climbing skills, you can tackle more significant rock-climbing challenges. What's nice about this adrenaline experience is there are multiple locations, so you don't have to travel far to hone your skills.
Click for more details: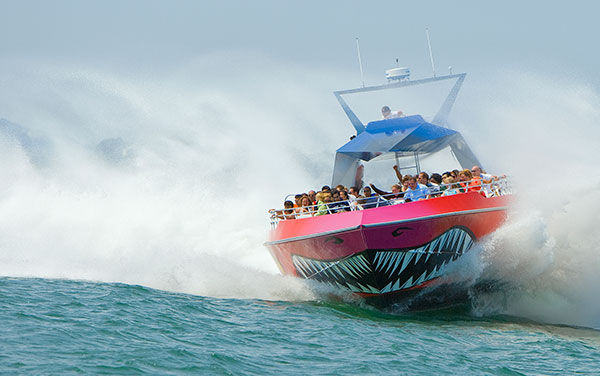 This boat charter offers something special for adrenaline seekers. This speed boat is painted up like a mean fish ready to take thrillseekers on a scripted action scene around the New England Coast.
Need to know: This boat ride is family-friendly, but trust me, everyone's going to have fun. If you don't know when they'll be traveling, opt for a gift card. This would make a great gift idea for families visiting the Boston area or locals.
Where it is: You can check this cruise out at Long Wharf, Boston, in Massachusetts.
The adrenaline experience: Codzilla reaches speeds up to 40 mph on the ocean, but that's not the most thrilling part. The entire ride is scripted and features sound effects to immerse you in action. The boat is capable of sharp turns, and 360 degree turns… And you will get wet!
Click for more details: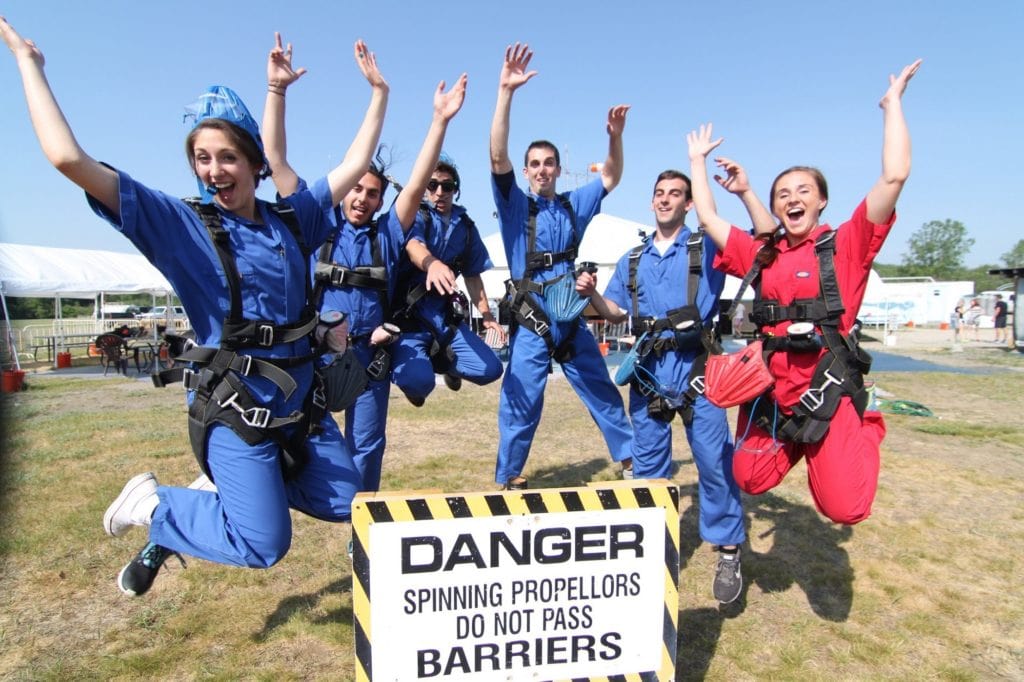 Skydiving really is the thrill of a lifetime! Tandem skydiving makes it possible for even beginners to experience the excitement of free-falling from a plane and landing safely on the ground. No certification required!
Need to know: Tandem jumps are the safest first jumps for new skydivers, but experienced, and certified skydivers can jump on their own. They also offer lessons to become certified, a perfect gift idea for a Boston thrillseeker who's already tried skydiving and is hungry for more.
Where it is: You'll be skydiving in Pepperell, Massachusetts, which less than an hour from Boston.
The adrenaline experience: Jump out of a plane and freefall 60 seconds before your parachute deploys, and you float safely to the ground for another 5-7 minutes. If you're wondering how fast the freefall is: the average human body falls at 120 mph. Talk about an adrenaline rush.
Click for more details: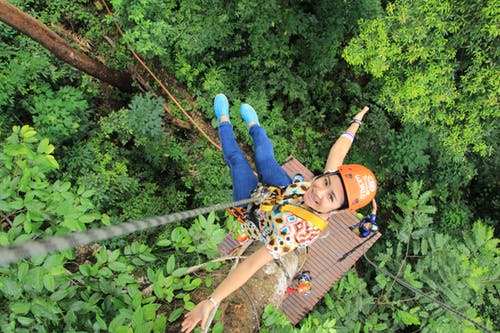 Zip lines are an excellent way for thrillseekers to experience an adrenaline rush as they sore above the trees. You get that feeling of falling while being strapped onto the harness, so it's perfect for adrenaline junkies of a variety of ages.
Need to know: They offer multiple zip line tours to choose from that you can book. You can book online if buying this as a gift for someone, which is convenient. At Berkshire East Mountain Resort, they can also do downhill mountain biking and whitewater rafting, so it's really an all in one thrillseeker destination.
Where it is: Charlemont, Massachusetts, which is about two hours from Boston.
The adrenaline experience: For the best experience, take their Valley Jump Tour. There's 6 zip lines total, each increasingly long and thrilling. The final one is almost 200 feet in the air and will have you soaring at 50 mph.
Click for more details:
So know you know what there are for adrenaline junkie experience gifts in Massachusetts. Either be the best gift-giver ever with these ideas or just do them yourself; we won't tell.
Find More Experience Gifts Near Me