Disclosure of Material Connection: Some of the links in this post may be "affiliate links." This means if you click on the link and purchase an item, I will receive an affiliate commission. Disclosure in accordance with the Federal Trade Commission's 16 CFR, Part 255. This site is a participant in the Amazon Services LLC Associates Program, an affiliate advertising program designed to provide a means for sites to earn advertising fees by advertising and linking to Amazon.
Apples, and Animals, and Art, OH MY. The Letter A is so Amazing that it is the leader of the entire Alphabet. After doing a bit of digging, I have come up with some equally amazing toys that just so happen to begin with the letter A.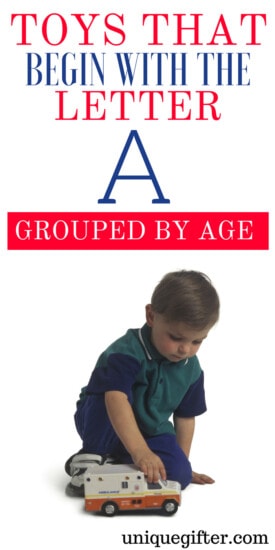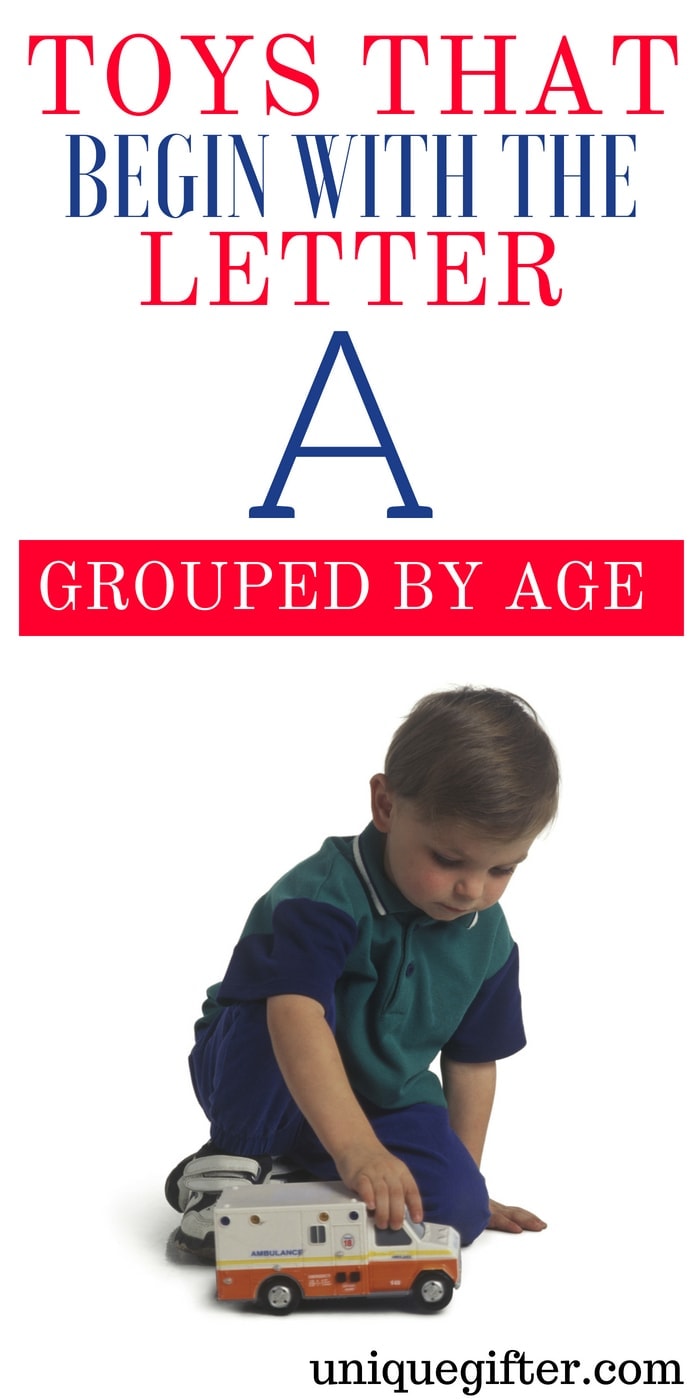 When you need to find a toy that begins with a specific letter, this is the place to come. This list is all about the A's, from adventure to aliens to airplanes, and even Angry Birds. See what else is here! And if you're looking for gifts for adults that begin with the letter a, we got you covered there too.
Find more toys for the rest of the alphabet:
Toys that Begin With the Letter A for Ages 2-5
Art Easel Set
Children will enjoy creating their own unique artwork using this easel set.
Animal Planet Click and See Projector Toy
Take a walk on the wild side… from the comfort of your own home.
Astronaut Kids Play Tent
This Rocket Ship Play Tent will definitely have children's imagination running wild.
Astronomical Telescope Toy
Parents will love introducing children to astronomy with this cool telescope toy.
Ants in the Pants Game
Children over the age of 3 will have a blast trying to launch all of their ants into a pair of pants.
Ambulance Activity Toy
With this super interactive toy, children will feel like they are working in an actual ambulance truck.
Abacus
The abacus is a classic toy that young children are always intrigued by. It also helps them to exercise key developmental skills.
Alphabet Apple
Toddlers can learn the alphabet in a fun and interactive way.
Astronaut Role Play Costume
Pretend play is very healthy for children. With this Astronaut Role Play Costume, they will be over the moon.
Animal Planet R/C Alligator
Pre-school aged kids will have lots of fun with this remote control alligator.
Animal See N' Say
Children can learn the names and sounds of animals with this popular toy.
Activity Garden Playset
This play center is perfect to help develop fine motor skills.
Alphabet Acorns Activity Set
This is a very hands-on way for children over the age of 3 to learn their ABCs.
Airplane Take Apart Toy
Children will have so much fun taking apart this plane, putting it back together, and watching it light up.
Activity Cube Center
This 6-in-1 Activity Cube is a super effective way to keep children busy.
Aquadoodle Mat
Children will have so much fun coloring and drawing with water on this mat.
Animal Friends and Hand Puppets
Hand puppets are a really fun way for children to free their imagination and work on their social skills.
Angel Baby Doll
Baby dolls are always a perfect toy for the little ones.
Alice in Wonderland Tea Party Set
Kids will have so much fun designing their own tea set with this activity kit.
Avenger Hot Wheels Monster Jam Truck With Ramp
Children can reenact a real Monster Jam show using this Hot Wheel Monster Jam Truck with Ramp.
Toys that Begin with the Letter A for Ages 6-8
Adjustable Dumbbell for Kids
If your kid loves watching you exercise and wants to join in, this adjustable kids' dumbbell is the perfect solution to give them a chance to participate and learn from you.
Adventure Kids Educational Outdoor Toys
The more they have adventures outside, the more they will learn!
Alien Mazes Activity Book
Alien mazes are fun to do, and there are so many activities for them to do inside this book.
Adventure Awaits! Wooden Toy Sword
Keep them entertained with their very own Adventure Awaits! wooden toy sword!
Airplane Airbus Toy
Every kiddo needs a good airplane to play with. After all, they are fascinating!
Aolee Kids Smart Watch
Another great accessory if they are interested in exercising with you, or on their own, is an Aolee kid smartwatch. It can help them keep track of their progress.
Angry Birds Movie Mini Figures
These Angry Birds movie mini figures are adorable and fun.
Adventure Club Kids Walkie Talkies
To keep in touch with family and friends that are close, but not close enough in your kid's opinion, these Adventure Club kids walkie talkies will come in handy.
Airplanes Toy Set
Why have only one airplane, when you can have many?
Angry Birds TNT Invasion Blitz Playset
Your kid can recreate their favorite Angry Birds levels with this TNT invasion blitz playset.
Angel Shine Lovely Huggable Plush Girl
For hugs and cuddles when they are playing or hanging out on their own, the Angel Shine lovely huggable plush girl can be just within reach.
Aqua Dive Rings
If they love playing in the water, these aqua dive rings will keep them active.
Alex Art Draw Like a Pro
For the kiddo who wants to draw like a pro, this Alex Art draw like a pro will help them learn how to do so.
Aurora World Precious Moments Doll
Precious Moments, such as this Aurora World doll, have been around for a long time, and they are still relevant.
Azude Rainbow Paper Raindrop Garlands Decorations
They can decorate their room or another space with Azude rainbow paper raindrop garlands.
Animal Figures
This list would not be complete without something with "animals" in the title. Kids love animals!
Alien Creation Chamber from Ben 10
If your kiddo loves Ben 10, they will find joy in this Alien Creation Chamber.
Aladdin Disney Story Pack
Aladdin is a classic Disney movie, and now they can have their very own story pack from the movie.
Air Power Soccer Disc
"Soccer" just got a little more interesting!
Alien: Covenant, Funko Pop Movies Toy Figure
This toy figure of Alien: Covenant, will look nice, as a toy to play with or a decoration too.
There is no shortage of toys that start with the letter A, as you can clearly see from this awesome list of amazing toys.
20 Toys that Begin with the Letter A for Ages 9-12

The alphabet starts with the letter A, so naturally there needs to be a list of toys that start with A, and for the ages of 9-12 years old. There are some awesome things that start with the letter A, including the words awesome and amazing. Check out these toy ideas to get you on the right path:
Amazing Spider Man 2 Spider-Man Gloves
Buy Now
Who doesn't love the Amazing Spider Man and want to be one with these cool gloves?
Amaze Game
Buy Now
Getting their minds active and playing with others isn't always an easy task at this age, but this game looks like a ton of fun.
Angry Birds Star Wars AT-AT Attack Battle Game
Buy Now
If they love Angry Birds, Star Wars, or both, then they will love the Angry Birds Star Wars AT-AT Attack Battle Game to play with their friends.
Army Ranger Challenge Coin
Buy Now
Great as a collector item, this Army Ranger Challenge Coin is something they can proudly display.
Avatar Sacred Tree Seeds LED Night Light
Buy Now
If they are not a fan of the dark in their room at night, they definitely need an Avatar sacred tree seeds LED night light to put on their nightstand or dresser.
Angry Birds: Knock on Wood Game
Buy Now
Yet another fun game for the kids to play with their friends or family!
Amazing Slingshot LED Helicopters
Buy Now
These amazing slingshot LED helicopters are sure to keep them busy for hours.
Avatar RDA Combat Amp Suit
Buy Now
When the movie, Avatar, is one they just can't stop watching, they will love having this Avatar RDA combat amp suit that they just can't stop playing with while they watch and act out the scenes.
Adventure Planet Dinosaur Set with Carrying Case
They can play with, and discover, dinosaurs with their very own Adventure Planet dinosaur set that comes with a carrying case.
Absolute Sale Animal Magnetic Puzzle
Buy Now
A great way to get their minds working is to give them an animal magnetic puzzle. They are never too old to do these.
Adventure Kidz Outdoor Exploration Kit
Give them a reason to explore outdoors with the Adventure Kidz outdoor exploration kit.
Angry Birds Movie Mini Figures
Buy Now
They can act out the movie or whatever they want with a whole set of Angry Birds movie mini figures.
Above and Below Game
Buy Now
All of these games are excellent for getting them to think, but this one will especially get them thinking.
Airport with Control Tower Playmobil Building Set
Buy Now
Airplanes and airports start with the letter A, which means this list couldn't possibly be complete without one or the other, or both.
Ant Dreamworks LED Lighted Ant Works Farm Castle
Buy Now
They can learn more about ants with the Ant Dreamworks LED lighted ant works farm castle to observe and care for.
Ambulance Helicopter LEGO Building Kit
Buy Now
They have very important work to do when it comes to the ambulance helicopter LEGO building kit!
Aurora World Fancy Pals Plush Princess Kitten Purse Pet Carrier
Buy Now
They can take care of this Aurora World kitten and carry it everywhere they go.
Adventure Planet Wild Animals Set with Carrying Case
Buy Now
Now they can learn even more about wild animals, with the Adventure Planet wild animals set at their fingertips.
Aqua Dive Rings Pool Toy
These aqua dive rings pool toys will keep them active and diving when they get in the pool.
Animals Assorted Mini Jungle
Buy Now
They might as well have a whole mini jungle with all the animals that they have in their room, and how they seem to act like an animal themselves a lot of the time.
One thing is for sure, there is not a shortage of words and toys that start with the letter A. If you didn't find what you were hoping for in this list, there is a lot more where they came from.