Disclosure of Material Connection: Some of the links in this post may be "affiliate links." This means if you click on the link and purchase an item, I will receive an affiliate commission. Disclosure in accordance with the Federal Trade Commission's 16 CFR, Part 255. This site is a participant in the Amazon Services LLC Associates Program, an affiliate advertising program designed to provide a means for sites to earn advertising fees by advertising and linking to Amazon.
[Photo Source – Tourism Montreal]
Hi Folks – apologies for the radio silence.  My computer and the internet are not being friends, which makes it primarily a large, expensive paperweight.  Today I am very pleased to present a guest post from Catherine at Plunged in Debt.  I wrote a guest post for her a few weeks back and am just now able to post the one that she wrote!  We'll be back with regular scheduled programming shortly!  Happy New Year to all :-)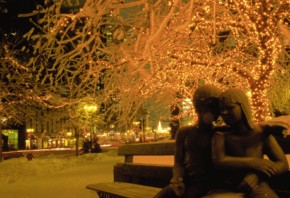 With Christmas over, the winter blues quickly start to set in; before you know it March is here and you realize you've vegged the winter away in your red-wine-stained sweatpants; or is that just me? It's too easy to to get into a nasty winter routine: Wake (after hitting your alarm clock 10-15 times, dark winter mornings are the worst), go to work, then rush home and veg the night away, we humans really don't like the early dark evenings (Hello pitch black darkness at 6pm), combined with the cold and we're pretty much hibernating all winter.
Well not this year! This year you're going to break this nasty routine and plan some cheap dates with your spouse. Get off the couch, put REAL clothes on and socialize! I know, it's crazy talk, but here are some cheap date ideas that won't break your post-Christmas budget and have you enjoying all that the cold of winter has to offer:
Bundle up in your warmest winter gear, grab a hot chocolate/coffee/tea/hot tottie and go for a walk. Explore your city, a nearby park or your own neighborhood. Just get outside, get some exercise and enjoy each other.
Go ice skating on your city's outdoor rink if you're fortunate enough to have one, or use a good 'ol fashion lake (but please confirm the ice is safe for skating- it's suppose to be romantic not a death trap, unless that's your thing, freaks.)
Go skiing/snowboarding.
Build a snowman together, playing in the snow is fun at any age and when you're all done you'll have to go inside and warm each other up. Bonus.
Go Sledding!
Have you ever been hiking through the woods in the winter? So much fun. If you're super adventurous you could even hike in to camp for the night. It's winter so you'll need to snuggle to stay warm ;) but please have appropriate camping gear, frost bitten bums aren't sexy or healthy.
Take a blanket, a bottle of wine and star gaze. The winter stars are amazing and often missed.
Any other favorite cheap winter date ideas? A cabin in the woods is always nice if you have access to one…