Disclosure of Material Connection: Some of the links in this post may be "affiliate links." This means if you click on the link and purchase an item, I will receive an affiliate commission. Disclosure in accordance with the Federal Trade Commission's 16 CFR, Part 255. This site is a participant in the Amazon Services LLC Associates Program, an affiliate advertising program designed to provide a means for sites to earn advertising fees by advertising and linking to Amazon.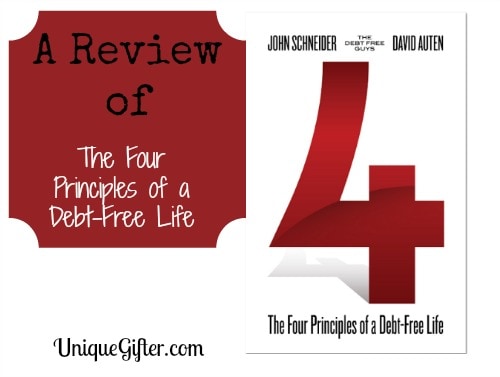 There are some pretty awesome aspects to hanging out on the internet, especially on twitter.  It's a great way to communicate with some pretty awesome folks out there, plus, every once in awhile a great opportunity comes your way.  Several weeks ago, I saw a tweet from the @debtfreeguys who were looking for some people to review their new book, The Four Principles of a Debt-Free Life.  I said I would be happy to do so and not too long after I received an advance reading copy in the mail, with a lovely letter from the authors.  The last book that I was able to review thanks to the internet was Into Wine, which was also lots of fun!  I like reading, but I need deadlines to push me to do it.  My friend had a book club going for awhile and that was perfect for me.  Committing to write a review was also what I needed!  Ahem, though as I mentioned before, I started a different book on the day that I received this one.  Anyway, without further ado:
The Four Principles of a Debt-Free Life Review
First up, I need to tell you that I am not the intended audience for this book; I don't have debt and haven't ever had much of it.  That said, the reason for my lack of debt is that I do most of the things covered in the book.
My absolute favourite part comes right near the beginning.  Have you ever read The E-Myth Revisited
?  If not, you should, it's about entrepreneurship on the surface, but the bulk of the book is about personality types in the workplace and how to play to your strengths once you identify them.  The other major part of the eMyth is setting up contracts, with yourself and with others.  That concept of setting up a contract and making it public is exactly what John Schneider and David Auten suggest when it comes to your debt.  I love it.  This is one way to help yourself get over the "always tomorrow" or "one day I'll deal with that" stumbling blocks.
I also enjoyed reading the stories of how the two authors took similar but different approaches to dealing with their debt and how they honestly reviewed what was good and what wasn't great about what they did.  The section on dates under $20, and the forthcoming book full of ideas, is fabulous.  It uses real prices and hard and fast activities, not just "go for a picnic in the park."  Go for a picnic is one of them, but they throw in a few ideas of what to buy for food and price it out.  It looks like this:
Date – Museum and Wine at a Park

$7 – 1 Bottle Yellow Tail Merlot from liquor store

$12 – Dubliner cheese, apple and olives from grocery store

$0 – Denver Art Museum on first Saturday of the month

$0 – Wine glasses and knife from home, picnic blanket

$19 Total
As you can see, it's not just a recommendation of vague activities, but some hard and fast plans that you can adapt for where you live.
Another highlight in the book is the appendix which gives you a timeline of 12 weeks to work through the various steps they recommend (rightly so) for getting your financial situation under control.  There are a few tasks to do per week.  They recommend right at the beginning that you read the whole book cover to cover once, don't get overwhelmed, then go back and work through it slowly.
One thing which very much surprised me is the recommendation to use checks to buy things like groceries (that's cheques for us Canadians.)  I don't think the grocery stores here will accept cheques anymore, though I can see the benefit of keeping cash out of the wallets of some.  NSF fees really sting, especially if you're already living beyond your means, so I'm a bit hesitant on that one.
In conclusion, there are some fun and useful ideas in the Four Principles of a Debt Free Life, though nothing earth shattering.  If you are after a straightforward and manageable approach to getting yourself out of debt, then this book will start you on your path.  Personally, I can't wait for the forthcoming book of affordable date ideas!