Disclosure of Material Connection: Some of the links in this post may be "affiliate links." This means if you click on the link and purchase an item, I will receive an affiliate commission. Disclosure in accordance with the Federal Trade Commission's 16 CFR, Part 255. This site is a participant in the Amazon Services LLC Associates Program, an affiliate advertising program designed to provide a means for sites to earn advertising fees by advertising and linking to Amazon.
We might not be able to become old money, but we can still buy some actual old money!
A few weeks ago on twitter (follow me!), a few of us ended up chatting about money collections that we have from our travels, or from gifts.  Liquid Independence brought up the idea of giving a gift of old money, especially mint condition from your country of origin.  I have been wanting a framed bill from Zimbabwe for quite awhile, myself.  No, I'm not from Zim, but they have $100 trillion dollar bills!!  The best part?  (Worst, if you're from Zimbabwe and dealing with their hyperinflation.) They cost about $6 Canadian on eBay.  Seriously. You can check it out here.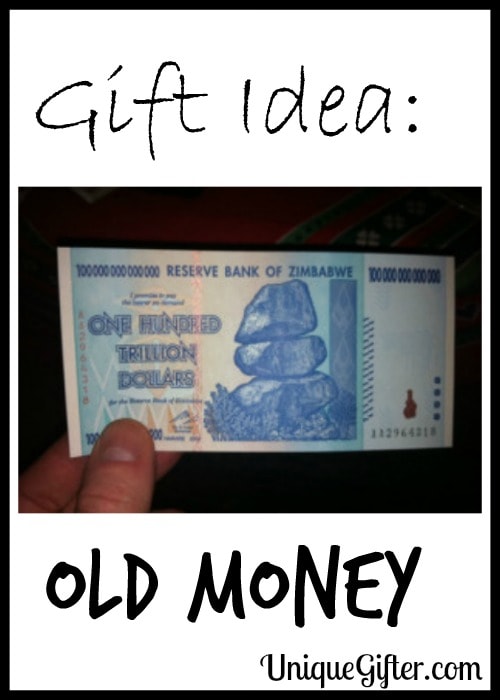 [Photo – Creative Commons Attribution Share Alike – Nakken18]
Money looks pretty neat when it is in a picture frame.  If you are looking for a memorable wedding gift, especially for a couple from two different cultural or national origins, consider getting two mint bills.  Put them in a frame next to each other.  Depending on the currency, you could say "You're both perfect tens" in your card, for example.  Feel free to tell the couple that you got them cash, only give them this framed version and then surprise them a few days later with an eTransfer or a cheque in a card!
"Where do I buy mint currency?" you might ask.  Well, if you are lucky, your nation's mint sells such things!  In Canada, you can visit mint.ca to find out more about the Royal Canadian Mint.  Alternatively, check out eBay for quite a large selection.
Perhaps you are looking for a gift idea for a traveller in your life.  It may require some conspiring with the traveller's significant other, but you could have their spare change collection 3D mounted in a frame.  You can get quite creative with how you choose to lay them out.  Take your idea of a pattern or design to your local framer or to a place like Michaels.  Note that 3D framing tends to cost a pretty penny.
Do you have a money collection or some pristine bills at home?