Disclosure of Material Connection: Some of the links in this post may be "affiliate links." This means if you click on the link and purchase an item, I will receive an affiliate commission. Disclosure in accordance with the Federal Trade Commission's 16 CFR, Part 255. This site is a participant in the Amazon Services LLC Associates Program, an affiliate advertising program designed to provide a means for sites to earn advertising fees by advertising and linking to Amazon.
If you're after a lovely gift for a special lady in your life who has just become a mum, we've come up with a few ideas that are guaranteed to help her feel spoiled and appreciated.
After all, the baby will be getting lots of great new things, so it's important to make her feel special and pampered at times, too!  Here is a selection of lovely gift ideas for a new mum, enjoy!
A bouquet of flowers
Flowers make a lovely gift to brighten someone's day, and you can even get themed ones to make them more special for a new mum on the birth of her little one. For example, you can get new baby boy flowers and girls that will be colour themed and will come presented in a beautiful vase or basket to make it look much more impressive than a regular bunch from the high street.
A food or drinks hamper
A gift hamper of luxurious food and drink treats are sure to go down well, especially if mum has been making sure to take extra care of what she's eaten for the past 9 months…she deserves a little indulgence! There are some great ones available here for a range of tastes and budgets. Alcohol gifts are great too after 9 months of abstinence, just check whether she's breast feeding, etc.
A set of luxury toiletries
Likewise, help her unwind (in her spare five minutes!) by getting her a gift set of luxury toiletries, like lovely smelly stuff for the bath, gorgeous-smelling lotions (as she's probably had lots of boring ones during her pregnancy) and hand washes. Opt for really frivolous options that she wouldn't buy herself, especially now she has a little one to shop for!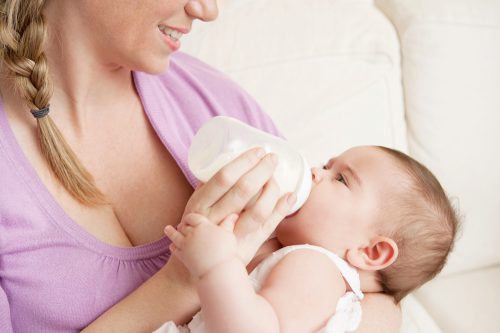 A scented candle
Scented candles make a lovely gift and are great for a new mum as they're luxurious for her but also for the house, which is likely to get taken over very quickly by baby stuff. Help bring an element of calm and serenity, and with a lovely scent to top it off which can be great for when little accidents occur, too.
A baby journal/diary
If you want to get something for both mum and baby, with a slight lean towards 'mainly-for-mum' a baby album is a great way to go. It's a lovely way to help them document all those precious 'first' moments, using photos and mementos. Depending on the one they go for, they can display things like baby's identity band from hospital and their first scan, to things like their first curl and snaps of their first smile!
A certificate for a pamper spa day
Another great gift perfect to help mum spoil herself and get a bit of time to herself in a couple of months would be to get her a certificate for a pamper day at a spa. Or, if your budget is a little more modest, you could get her a slightly cheaper certificate to get just one or two spa treatments, or for something like vouchers to get a manicure or pedicure.