Disclosure of Material Connection: Some of the links in this post may be "affiliate links." This means if you click on the link and purchase an item, I will receive an affiliate commission. Disclosure in accordance with the Federal Trade Commission's 16 CFR, Part 255. This site is a participant in the Amazon Services LLC Associates Program, an affiliate advertising program designed to provide a means for sites to earn advertising fees by advertising and linking to Amazon.
[Photo – CC Attribution – changeable focus]
I stumbled upon a great post via the Delightfully Inspiring Thursday link up, over at Our Family of Three (unfortunately the blog is now gone), which 100% inspired this wedding shower gift idea. Many thanks to those sites :-) Apparently I like buckets, because I have now written about them twice in the past few weeks. The other post can be found here – Build Your Own Castle!
The original post was about creating a Fall Bucket List – with a bucket!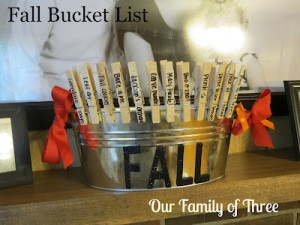 Isn't that cute?
So, here is my idea – give a "bucket list kit" along with a plant, so that the couple can grow and achieve things together.
All that you need to do is acquire the following:
A bucket
A plant and soil for the bucket
A sharpie or more
Wooden Clothespegs
Some decor items (optional)
Today I give you a bucket list,

for you and the one that you kiss.

Collect your dreams and pin them down,

for all the days after you wear your gown.

Perhaps take a trip to Nantucket,

before you both kick the bucket.

There is also plant to watch grow,

a sign of the love you sow.

Build up your future together,

full of love forever and ever.
You could also include a few clothes pegs that you have written suggestions on – such as "get married," "take a honeymoon," or "say I Do!" I would caution against anything that mentions babies, unless you know 100% that the couple plans to have kids. Many people find all the references to potential grandchildren or offspring overwhelming during the wedding process.
This gift is very much not on the registry, so I would strongly suggest giving it in conjunction with something select from the registry, or with cash or with a gift card. That said, some people would really appreciate one of those metal drink holding buckets, so check if your recipient(s) would like one!

You could consider adding in some bucket list ideas to the gift… here are some links to suggestions:
525+ Ideas for your Bucket List
1,250 Ideas for your Bucket List by Marelisa Fabrega
47 Bucket Lists that I Stalk by Annette
Do you already have a bucket list? Have you ever considered starting one?