Disclosure of Material Connection: Some of the links in this post may be "affiliate links." This means if you click on the link and purchase an item, I will receive an affiliate commission. Disclosure in accordance with the Federal Trade Commission's 16 CFR, Part 255.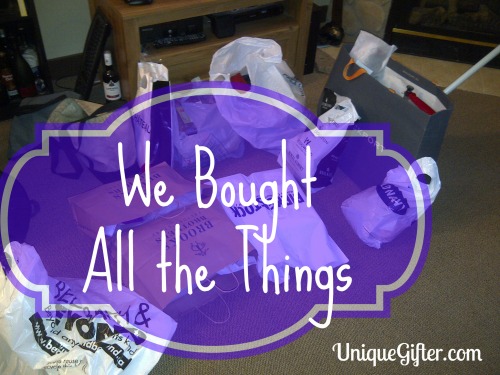 Yes.  We bought all the things.  But first, I would like to introduce you to our new staff writer, Adina!  Her first piece went up last Friday, called Fashionista Gift Ideas.  She will write about all sorts of things I know nothing about, for example, fashion!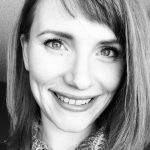 Adina is a 30-something professional, wife, and mother of two, living the suburban dream in Edmonton, Alberta. She loves designer bags, collecting books, and balancing her family's budget (not necessarily in that order). In her spare time, she is a freelance writer and personal style blogger at Blue Collar / Red Lipstick.
Please welcome her and comment on her writing as well!  Her pieces will be mixed in at random, as I still attempt to schedule posts out to the end of the year.  I'm looking forward to reading more great gift giving ideas.
Back to buying all the things.  My spouse and I are headed on vacation in a few weeks and needed to buy some stuff, like sandals, to take on the trip.  I just read about Tonya's awesome trip to Iceland and am feeling even more stoked to go on vacation.  We combined shopping with attending an event in Calgary and it all added up to a lot of spending.
| | | | |
| --- | --- | --- | --- |
| | Me | | Spouse |
| 1 | Pair of Birkenstocks | 1 | Linen Vest |
| 3 | Collared Dress Shirts | 1 | Pair of Birkenstocks |
| 2 | "Silk" Work Shirts | 1 | Knit hooded sweater |
| 1 | Swimsuit | 1 | Cotton Sweater |
| 1 | Cotton "linen" Top | 1 | Odd-Jacket + Alterations |
| 2 | Pairs of Shorts | 1 | Dress Shirt |
| 1 | Light Pullover Top for the Beach | 1 | Pair of Pajamas |
| 1 | Linen Shirt | 1 | Light Longsleeve Shirt |
|  1 | Pair of Jeans | 3 | Light T-Shirts |
| | Us | 1 | Stupid Hat |
| 6 | Plastic Glasses | 2 | Swimsuits |
| 2 | Beach Towels | 2 | V-neck Sweaters |
| 2 | Collared Shirts for my Dad | 1 | Pair of Underwear |
| 1 | Can of David's Tea | 1 | Grip Tape Job for Road Bike |
| 1 | China Pattern Creamer | 2 | Pairs of Boat Shoes |
| 1 | Giant Bottle of the Most Amazing Gear Laundry Detergent | | |
| 1 | Steripen | | |
For those of you counting, that's 46 things, so at least the spending looked like a lot of stuff!  That works out to an average of $38 per item, but it's a lot less if you put the footwear into its own category.  This just in, sweet Birkenstock sandals
are not cheap! I got this style, in black:

There was a huge sale on at the Brooks Brothers Outlet (70-80% off half the store) and we are both in love with their non-iron dress shirts .  Normally, they are about $100 each, depending on the style, and they were marked down to $18-25!!
  My spouse also got an odd-jacket for around $100 including alterations, which normally would cost several hundred dollars.  I happened to walk by the Royal Doulton store in Cross Iron and notice our china pattern
 on clearance in the window!  I picked up a creamer for $26, instead of the $78 MSRP.  Too bad they didn't have the serving ware we were after.
In not-shocking news, buying beach towels in Alberta in March is a bit tricky, but Bed, Bath and Beyond came through for us, though I wish I had thought of them as a retailer and had a 20% off coupon on my phone.  Oh well.  They also had a good price on large acrylic water glasses.  We can't take glass to the hot tub in our building and still manage to break the plastic glasses we have on occasion, so I guess it's good that they have been plastic!
If you have synthetic sports gear, like bike shorts and jerseys, I highly, highly recommend Assos Active Wear Cleanser
.  It costs a million dollars (the bottle we bought cost $69!) but boy does it actually work.  I also can't say enough good things about Road by Calgary Cycle.  They have possibly the best retail customer service I have ever experienced.  For example, when I bought my bike, I wasn't sure about which stem would be best, so they sent me home with about three of them to try out, for free, with no credit card deposit or anything.  I live several hours away, they knew it would be a few months before I would be able to return them, AND the stems are worth a few hundred dollars each!  Love those guys.
The astute readers will notice that I wrote "stupid hat" under my spouse's list of purchases.  That's my opinion and I'm sticking to it.  We also got a SteriPEN
, to disinfect water while we are traveling.  It looks pretty cool.
On Sunday, we met up with Nelson and Vanessa for brunch… except we kind of bailed on the brunch part and just had coffee, due to being broke from all of our purchases!  There were last minute changes all over the place and I still feel like a jerk for it.  That and we had pizza leftovers for breakfast, who can say no to that?  After eating in a few restaurants, I am going to have to write up some Yelp reviews, spurred on by Bridget's extensive reviewing!
When you add in gas, a bit of parking and restaurant food, we spent $2000, well cleared it actually, more like $2300.  Yikes.  That's all while staying at our awesome friends' house!
Did you spend a million dollars last weekend?