Disclosure of Material Connection: Some of the links in this post may be "affiliate links." This means if you click on the link and purchase an item, I will receive an affiliate commission. Disclosure in accordance with the Federal Trade Commission's 16 CFR, Part 255. This site is a participant in the Amazon Services LLC Associates Program, an affiliate advertising program designed to provide a means for sites to earn advertising fees by advertising and linking to Amazon.
Giving things is always a nice, generous gesture to make. As a child, you're pretty happy to receive a gift, tear the wrapping paper off and be surprised and delighted with what you've received, so it is no wonder that we all have fond and positive memories of receiving stuff.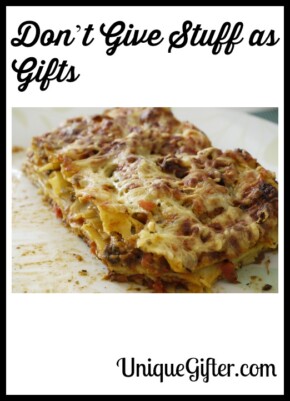 However, giving a gift doesn't always have to mean a physical items, or stuff.
Why not consider giving your time?
See, some of the best gifts in life aren't really gifts, such as being able to spend a whole day with the person you love, sitting around, shooting the breeze and not having a care in the world, or going to an event and soaking up the atmosphere and coming away with nothing more than fantastic memories you will cherish for the rest of your life about that night.
Or maybe another way to give your time is to head over to someone's house and help them out for the day. I can think of a great example of this – new mothers and fathers who are in desperate need of a day off, could really use the experienced and assured help of someone to come by and help them watch their newborn or children while they take a break and do absolutely nothing.
Those are things that sometimes, money really can't buy, especially if the passage of time has already claimed your favourite person to spend time with. A lot of people in the wake of someone passing, grieve that they didn't spend more time with those they loved, so why not take advantage of the time you do have today and avoid those regrets as much as you can?
Other great gifts, if you truly must give something, would be gifts to services that the receiver would otherwise consider a luxury and not want to spend the money on.
A great example would be tickets to an event, such as a sporting event or to the theater. Another good perennially loved gift is one to the spa, for both men and women alike. For men, the focus would probably be best received if it were to include a deep tissue massage somewhere in the day, and for women, a facial, manicure and pedicure is a must (although some men do enjoy that as well!).
Or maybe purchasing a few sessions with a life coach or help for an entrepreneur could be something beneficial and unexpected but appreciated to the receiver who may be in a bit of a career rut and needs some professional help to get excited about work again.
The last gift idea if you want to avoid giving stuff, is to give food instead. Treats and delicious things are always well received especially if the giver is an experienced baker or fantastic cook. Some great ideas would be a homemade frozen pizza or lasagna that can be thrown into the oven at the last minute on a hurried weekday night for a great home cooked meal, or a batch of their favourite cookies.
Whatever you do, when you decide to treat someone to a gift, it is already something that means you thought about them, care about them and want to express those emotions in some way and that in and of itself is already a gift.