Disclosure of Material Connection: Some of the links in this post may be "affiliate links." This means if you click on the link and purchase an item, I will receive an affiliate commission. Disclosure in accordance with the Federal Trade Commission's 16 CFR, Part 255. This site is a participant in the Amazon Services LLC Associates Program, an affiliate advertising program designed to provide a means for sites to earn advertising fees by advertising and linking to Amazon.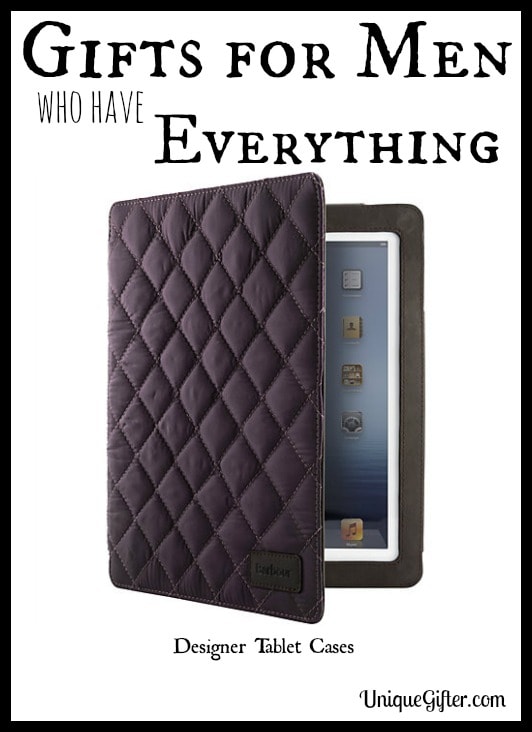 With cutting-edge tablets now becoming more and more affordable, you'll have more cash in your pocket to put towards accessories that are a cut above the norm. After picking up a posh new Android tablet it's time to accessorise. Why not treat yourself to a plush leather case to protect your new toy, or buy one as a gift with a difference for that tech-crazy loved one? A good place to start your accessory shopping is on ebay.co.uk, where there's a range to make the mind boggle. To steer you through the choices from designer to deluxe, here are some of the most desirable examples around.
Barbour iPad Air cover
Designed by Proporta in partnership with Barbour, this iPad Air case features the South Shields-based clothing brand's famous quilted covering.
Lined with a traditional tartan print and made using materials most associated with Barbour, the cover combines rugged style with everyday protection to guard against bumps and scratches. It also doubles up as a stand so you can view your favourite media.
Hermés Swift
The Paris haute couture firm most famous for its decadent silk scarves and Birkin bags has turned its delicate hand to tablet sleeves. The Hermés Swift is a sumptuous calfskin leather case designed to protect your iPad 2 or iPad 3 in the utmost luxury.
Available in a range of colours, including gold and blood orange, each case is embossed with the company's stamp of quality: the famous horse-and-carriage logo.
Parabellum Case
A classically styled portfolio case for your tablet, the Parabellum case keeps your device safe beneath a layer of high-grade Kevlar when not in use and easy to access when it is.
Reservation bison leather forms the outer shell, with a lambskin inner liner. Kevlar and a further layer of neoprene provide added protection against shocks. Hand-turned, flexible leather corner holders let you attach your tablet securely to the case when you want to use it.
Nero Intrecciato Nappa iPad Case
Sleek and crafted especially for your iPad, the hand-woven leather manages to be both soft and durable. Its slim profile means it'll barely take up space in your bag and its sturdy structure will keep your device clean and safe.
A stud fastener will prevent your iPad from slipping out.
Maison Martin Margella
Go for a simple, elegant look with this high-shine tablet case. Immaculate craftsmanship, premium leather and a supple tan leather lining ensure your device will nestle in the lap of luxury. It also makes for a fine document wallet.
Liberty London Tablet Case
Give your tablet a dash of arts-and-craft charm with a Liberty London print case. Based on the ever-popular Art Nouveau design named after a number of characters from Greek mythology, it's available in red, blue, green and a number of other colours. It also features the Liberty London logo on the front.
Maxwell Scott leather Tablet Case  
Handmade from the finest Italian leather, this hardwearing tablet case will only get better with age, the cow hide producing a warm, weathered look the more you use it. Padded to give extra protection and containing an extra pocket for important documents, this will look timeless tucked under your arm.
An eye-catching feature on trendhunter.com has plenty more food for thought.
[Photo – John Lewis Barbour Quilted Folio Case]