Disclosure of Material Connection: Some of the links in this post may be "affiliate links." This means if you click on the link and purchase an item, I will receive an affiliate commission. Disclosure in accordance with the Federal Trade Commission's 16 CFR, Part 255. This site is a participant in the Amazon Services LLC Associates Program, an affiliate advertising program designed to provide a means for sites to earn advertising fees by advertising and linking to Amazon.
A few weeks ago, I received an email out of the blue, asking if I would like to review a product from Personalization Mall. One of the options presented was an ice bucket.
Me?  Like wine?
YES! Yes, I do.
Naturally, as soon as I received the email, I poked around the website for awhile. Personalization Mall has quite a large catelogue of items to choose from, and every single item can in some way be customized.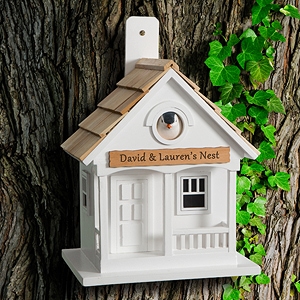 That might be a monogram in the corner of a soft and cushy throw blanket, or perhaps a birdhouse with a cute name plate on it.
If you are looking for a unique wedding gift, they just might have it for you. If you are a small business owner looking to say thank you to staff, or to reward some of your best customers, this might also be the right place for you.
Ordering from Personalization Mall does carry a risk, though, like virtually all other places that do personalization work… the goods are one-off and all-yours once you order.  Unless you think someone else would really like an ice bucket that reads "The Smith-Kline-Borgs," there really isn't a market for personalized goods once they are made.  All this to say, "Triple check your spelling before ordering!"
Once you have tripled checked your spelling, you can add some extra accessories to your order, such as an ice scoop, in the case of my ice bucket.  You can even add a DIY gift wrap kit!  No guessing about what you will need, they'll send it all to you.  If that's not your cup of tea, have the gift shipped directly, with the gift packaging option added on.  And yes, they do ship internationally.  That's how my ice bucket made it to me, after all.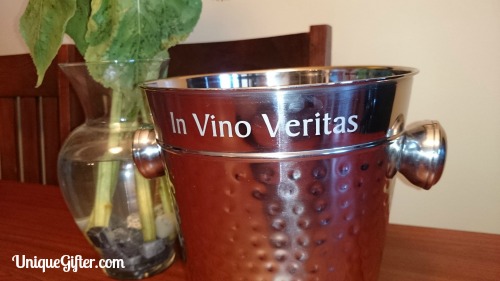 Let's switch tacks and talk about my ice bucket.  That's it up there. When this offer came in, my spouse was sitting there with me, and we both poked around the site together. From there, we ended up discussing what sort of personalization we would do.  You see, we have different last names and it's a bit of an issue sometimes.  The bigger issue, however, was picking something that would be A-OK in my house, but also something I was comfortable posting up here on the internet!
Fast forward several weeks (customs must have been inundated, the tracking number had it sitting in customs for nearly two weeks!), and the parcel showed up at my spouse's office.  It is easier to receive things there than at our house.
I got a message from my spouse,
I think the Veritas's ice bucket showed up.

Yes, Vinny Veritas has an ice bucket that I just got.
Yes, my spouse was kidding.
In Vino Veritas is a Latin saying, loosely translated "In wine there is truth."
Later that night, I got to see it for the first time. It is hammered metal, which happens to exactly match my cocktail shaker.  An added bonus is that my spouse found a place for the ice bucket to live, which is on the shelf right next to the cocktail shaker on our bar, so they look like they have always belonged together.
This is the Hampton Collection Ice Bucket and Chiller. The best feature of this ice bucket is the handles. They go a long way in reducing the heat transfer, or in the case of an ice bucket, the cold transfer, to your fingers! They provide a thermal break and therefore it is easy to carry the bucket around, unlike a lot of ice bucket designs.
This past weekend, we had quite a group of people over in the afternoon. We were toasting another successful year of a council, so we added some bubbly to the mix. Segura Viudas, to be specific, a delightful cava. This puppy can hold a lot in it! If you were to fill it with ice and beers, you could get more than a six pack in there.
With some finangling, I suspect you could also keep two bottles chilled. Ensure you have a healthy supply of ice to fill it up!
My slogan of In Vino Veritas also lead to some great conversations. It is etched onto the metal, so there is no chance of it wearing off.
My test group of a dozen was all quite happy to make use of this ice bucket from Personalization Mall, though I can't think of a lot of folks who would pass on the experience.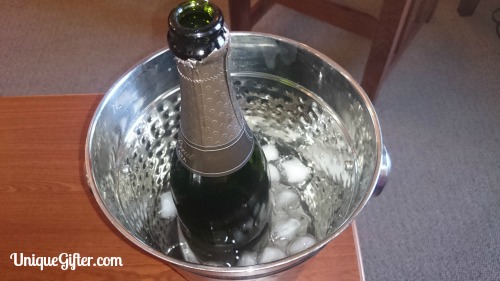 My bar is one step closer to the never-ending task of being complete, with my very own personalized ice bucket!