Disclosure of Material Connection: Some of the links in this post may be "affiliate links." This means if you click on the link and purchase an item, I will receive an affiliate commission. Disclosure in accordance with the Federal Trade Commission's 16 CFR, Part 255. This site is a participant in the Amazon Services LLC Associates Program, an affiliate advertising program designed to provide a means for sites to earn advertising fees by advertising and linking to Amazon.
With the sun high in the blue, blue sky, what do you reach for as a gift idea? It's a season of pools, beaches, hiking and long, warm evenings.
It's also the season of pool parties with your neighbours. Perhaps your HOA has a pool, or you do yourselves, maybe grandma and grandpa have a pool, or your community has an awesome water park.
Another epic summer activity is heading to the beach, of course. Perhaps a splash pool in the back yard, or reading a quick and easy novel while sunbathing.
All of these activities have a few things in common. If you're me, it's a healthy supply of SPF60 sunscreen, for one. The second is a towel.
How often have you lost your towel, or fought over the already-wet version?
Mmmhmm. I've been there. I grew up with a pool at my house and every summer, without fail, we acquired extra beach towels, forgotten and never reclaimed.
What if there were a way to avoid that problem, knowing exactly which towel belonged to whom?
Even better, towels with a bunch of customizable patterns on them.
That would make a pretty epic summer gift idea, would it not?
GiftsForYouNow.com makes just the thing, customizable beach towels, as part of their summer collection.
They provided my spouse and I with one each. My spouse opted for an anchor design with initials and I got some cute seahorses along with my name.
If we ever forget these towels at someone's house, there will be no wondering if the navy blue towel belongs to Eric or Andrew or Jess. The one that says Anne will be mine. Easy-peasy.
Now, most people aren't going to go out and buy themselves a towel with their name on it, which is what makes them an excellent gift.
It's also a gift that kids love. It's hard for your little brother to steal your towel when it's got your name on it. You can easily say, "mooooom, he stole my towel."
Plus, your very own dinosaurs? Yes please. Adults love dinosaurs too.
These towels have the names included directly into the printing, so there's no scratchy bits, or sections that will warp as the towel ages.
The style of these make them perfectly suited to lying on the beach, without picking up too much sand. I recommend them primarily as your mat towel, they are great for prickly grass in the backyard.
What else goes wonderfully with pool parties at the neighbours'?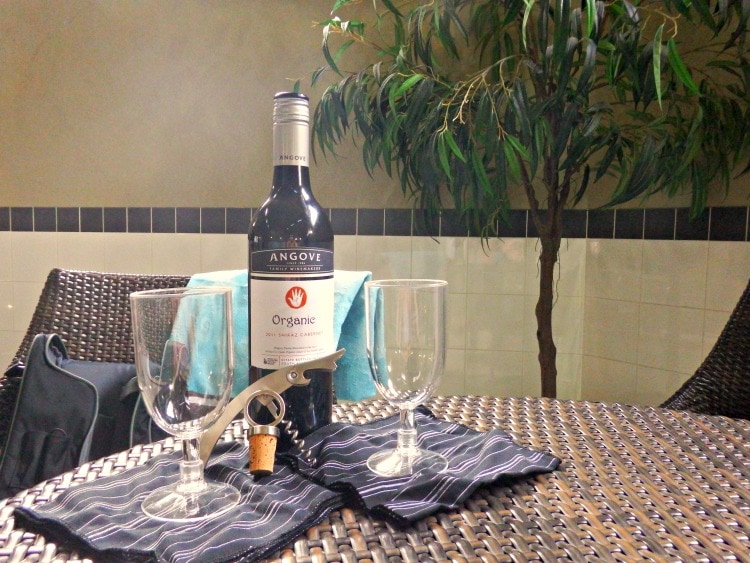 Wine.
Wine is my answer for a lot of things, I'll be honest.
I can be found in the condo hot tub with friends, after the heat of the day has died down but the sunlight still remains.
In my hand? A glass of wine in a plastic wine glass. Glass around pools and hot tubs can be a big no-no, plus it's a pain to pack up and transport.
Here enters the handy-dandy wine tote. This is a high quality bag, sporting a few pockets, two plastic wine glasses, two cloth napkins, a corkscrew and a wine stopper. With a shoulder strap, it's a key piece of kit for heading to the neighbours, or a beach that allows you to bring along a beverage. Perhaps this is not well suited to watching the kids down at the water park.
It comfortably fits a bottle of wine and packs up well again so that the wine glasses aren't dripping all over. I was quite impressed with the quality of the bag and it sports an embroidered letter on the case.
It would make a great housewarming present, because all of the necessary things are right there and ready to go! The wine tote would also be a fun engagement gift, a great birthday present for a wine drinking mom or a fun addition to a wedding present.
GiftsForYouNow.com has quite a variety of completely personalized gift options, from matching sets to single unique pieces. For every season and a multitude of occasions, they have different options, that you do not see everywhere.
Cheers to summer, my friends.