Disclosure of Material Connection: Some of the links in this post may be "affiliate links." This means if you click on the link and purchase an item, I will receive an affiliate commission. Disclosure in accordance with the Federal Trade Commission's 16 CFR, Part 255. This site is a participant in the Amazon Services LLC Associates Program, an affiliate advertising program designed to provide a means for sites to earn advertising fees by advertising and linking to Amazon.
Like clockwork, gift giving occasions pop up all year round. From the Christmas season to birthdays, graduations, and weddings – there's always a reason to give friends and family something they'll enjoy. As they pile up, it can be overwhelming trying to find the perfect thing for your loved ones. Online shopping is the best way to browse the most options in a time-efficient manner. To make your online shopping less expensive and a little easier, narrow down your options with coupon codes and cash back from an aggregator like Ebates. With your time saved from avoiding long lines and money saved from online discount offers, it's simply the better way to shop for gifts.
In need of a little inspiration for your gift shopping? Check out these fun ideas for presents by occasion:
Graduation Gifts
Whether it's a high school or a college graduation, the new graduate is moving on to the next stage of life, and likely moving to do so. Funky dorm décor, stylish first apartment essentials, furniture, linens, and small appliances all make excellent graduation gifts. For great cookware, home décor and new apartment basics, take advantage of Bed Bath and Beyond coupons from Ebates. From fun sheets and soft towels to mini fridges, microwaves, and coffee makers, there's no shortage of great gift options for new graduates.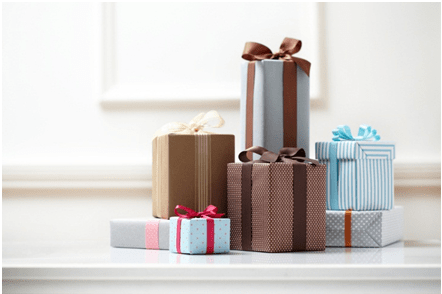 Great Wedding Gifts
Wedding gifts for today's newlyweds have seen a few changes from those of their parents. The Wall Street Journal reports that small appliances and flatware are growing less popular on registries. Taking their place are chef-quality cutlery and home bar accoutrements. Many view the shift as reflective of an increased involvement on the part of the grooms in choosing registry items.
Aside from the types of gifts being requested, the way in which wedding guests are shopping for those gifts is changing as well. Most couples make things easier for their guests by creating an online registry. Guests scan their friend or family member's registry, choose the item they'd like to purchase, and have it shipped directly to the soon-to-be newly-weds.
It's fast, it's easy, and if you're using a coupon or promotional code from Ebates, you could even get you free shipping. If the couple doesn't have a registry, try to think of their mutual interests and styles and what they like to do together. An example? If the couple is laidback and enjoys movie nights, they might like something fun and kitschy like a popcorn maker.
Birthday Gift Ideas
We all have those people in our lives who are inordinately difficult to shop for. They either have everything, want nothing, or feel particular about every acquisition. How do you find something they'll actually want, use, and enjoy? It's simple; find something personal and meaningful.
It doesn't need to be an engraved silver frame or a monogrammed watch. The Huffington Post suggests getting gym gear or workout equipment for someone who's into fitness, and scrap books and city guides for avid travelers. Giving a gift that's tailored to their interests is a great way to make your recipient feel special. If your friend or loved one is a fledgling chef, get them a new kitchen tool like a citrus zester to add to their arsenal. Even if it seems like your birthday celebrant has everything, showing them that you put some thought into your gift will leave a lasting impression.
No matter the occasion, gift giving can be a tricky task. While weddings and baby showers offer soon-to-be newlyweds and parents gift registry options, occasions like graduation leave you to your own devices. Online shopping makes the gift shopping process simpler and more affordable to save you time and money. When purchasing your gift, keep in mind what the recipient might need and what their personal interests and style are – this way you give them a gift that is well suited to them and show you put thought and effort into choosing something.